Siemens Mobility and the Helmholtz Institute Erlangen-Nuremberg for Renewable Energy (HI ERN) have signed a memorandum of understanding (MoU) regarding joint research into the use of liquid organic hydrogen carrier (LOHC) technology in rail transport.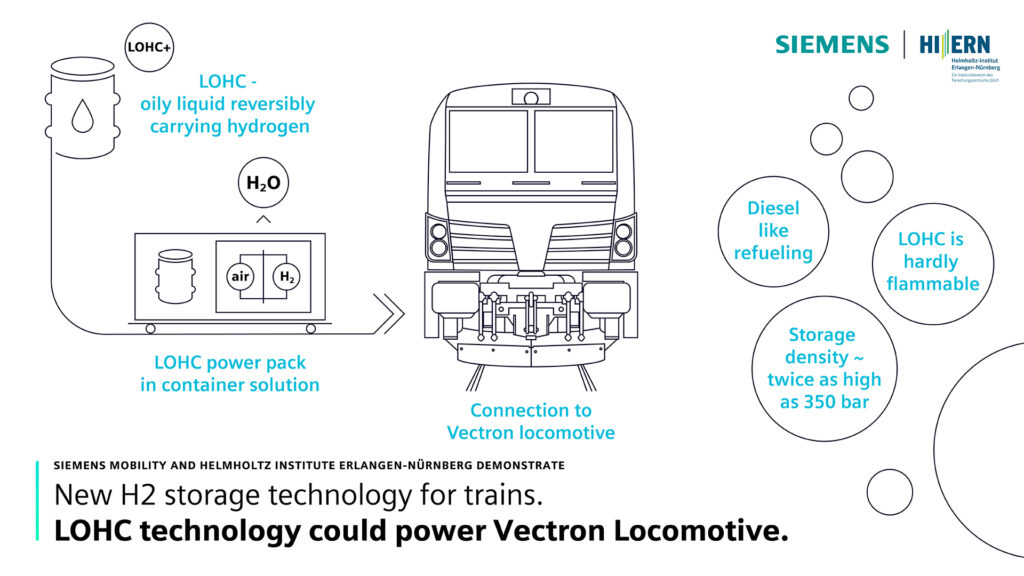 Hydrogen technology is becoming an increasingly discussed solution for potentially reducing CO2 emissions and helping to meet climate targets in rail transport. In recent years, Siemens Mobility has developed a hydrogen-powered train, the Mireo Plus H. Here hydrogen is tanked in gas form and must be kept under high pressure in order to achieve the required high density.
HI ERN is a leader in the field of liquid organic hydrogen carrier (LOHC) technology. In this process, an organic carrier liquid absorbs hydrogen and releases it only when needed. With the hydrogen chemically bound and unable to escape in a gas form it can be prepared and stored safely, and transported inexpensively, as high-pressure or low-temperature storage is no longer necessary.
A special advantage to the rail industry is that LOHC technology is also suitable for the on-board generation of electrical power in mobile applications such as trains.
"Siemens Mobility is especially pleased to be entering into a partnership with the renowned Helmholtz Institute Erlangen-Nuremberg to develop LOHC technology in rail transport. Hydrogen technology is a promising solution for making rail transport climate neutral, and and since sustainability has a very high priority for us at Siemens Mobility, we're providing a Vectron locomotive for testing the LOHC technology."
By providing the Helmholtz Institute with a Vectron mainline locomotive, the two partners have the opportunity to work together to demonstrate the feasibility of the LOHC concept.