Secure Support with bi-Trapez Bearing® – Stuttgart Airport Tunnel
The airport tunnel in Stuttgart, which will probably be ready to go into operation in 2025, is a largely underground railway line that connects Stuttgart Airport railway station with the new Stuttgart-Wendlingen line and passes under the trade fair halls.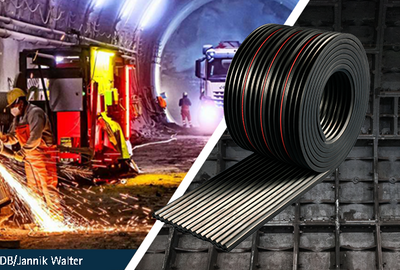 This will create a quick access to the airport and the trade fair grounds for residents and visitors in the future. The double-track line is ≈ 3 km long. Although the line also includes above-ground sections, it is called airport tunnel. To meet the specified requirements for permanent positional safety and stability, the unreinforced, approved Calenberg bi-Trapez Bearing® made of ageing-resistant, wear-free EPDM elastomer material was used. The material is weather and ozone resistant as well as quality controlled.
The linear bearing compensates for plane-parallelism deviations and component tolerances with simultaneous centric load transfer into the adjacent structures, thus giving the tunnel the necessary lifelong stability.
This article was originally published by Calenberg Ingenieure.