ScotRail Increases CCTV Coverage at Stations
Over 300 new CCTV cameras have been installed across the ScotRail Alliance's network of 359 stations to improve security for customers and staff.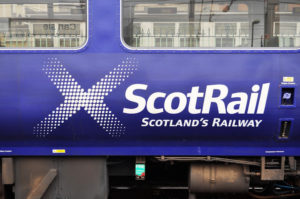 The work has been undertaken as part of a commitment to improve station facilities across the country. Customers with bikes will be one of the biggest groups to benefit, as additional cameras have been placed at 200 stations to monitor cycle parking areas.
CCTV Coverage at Stations
Cameras and monitors have been placed at the entrances to 30 of the network's busiest stations, as part of a move to highlight the presence of CCTV on trains and stations.
A total of 76 stations previously not covered by CCTV have seen it installed since the start of the present ScotRail franchise in April 2015. The ScotRail Alliance remotely monitors CCTV footage from their two customer service centres in Paisley and Dunfermline, where they also answer calls from station help points.
David Lister, the ScotRail Alliance's safety and sustainability director, said:
"Train travel is safe but that doesn't mean we take our customers' safety for granted.  With the installation of these additional cameras, we're sending a clear message that we do not tolerate crime on the railway.

"Footage from our cameras has previously been used by the police to investigate crime, and also to secure prosecutions in court."
Chief Superintendent John McBride, from British Transport Police, added:
"The rollout of these new CCTV cameras by ScotRail Alliance is great news as undoubtedly it will help us further deter and disrupt criminal activity.

"Likewise, this is also great news for staff and railway users, particularly bike users. Thanks to these additional cameras, staff and officers will be able to remotely monitor bike shelters and quickly report suspicious behaviour to police.

"Our priority is the safety of the travelling public, and we will continue to work closely with ScotRail Alliance to achieve this day in, day out. Of course, the public are also the eyes and ears of the network and can report crime and concerns to BTP discreetly by sending a text to 61016."
Original article © ScotRail.
FOR ALL THE LATEST INFORMATION, NEWS, IMAGES, VIDEOS AND ARTICLES ON ALL ASPECTS OF STATION SAFETY SYSTEMS, PLEASE CLICK HERE.