Smart Lighting for a Modern 21st Century Railway
David Long, Lighting Engineer at Schréder UK, discusses how smart lighting technology can help modernise the UK rail experience in line with 21st century demands—from electric charging ports for devices and vehicles, in-built CCTV and PA address systems, to distributing emergency notifications and evacuation guidance, all in one energy-saving lighting column.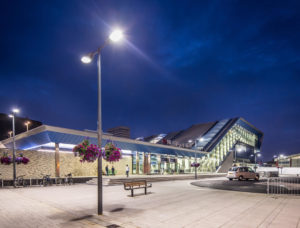 Since the birth of the steam engine and the first rail journeys, passengers have consistently wanted three things: the train to be on time; to find a seat and the ticket to be inexpensive. However, in recent years the expectations of passengers have increased. For UK rail operators to be able to meet and exceed these demands, they have the opportunity to invest in innovative technologies to modernise the network.
Lighting plays an important—and often underestimated—role at stations across the country. Lighting columns enable passengers and staff to enter, exit and navigate around stations safely, especially at night or when ambient light levels are low during the winter months. However, they can do much more.
Internet of Things (IoT) connected lighting is one of the fastest growing areas of technology in the UK, although it has yet to be widely implemented across the UK rail network. With British rail passengers making more than 1.7 billion trips a year, new 'smart' lighting columns can help significantly improve the passenger experience whilst acting as an additional security and traffic management tool for station operators.
Smart luminaires are modular interactive lighting columns designed to encourage social connectivity in public areas. They combine energy-efficient LED lighting technology alongside cameras, speakers, internet connectivity and a range of electric charging applications, all in one unified column.
Improving safety and security
The combination of large retail environments and heavy footfall means that criminals have been known to regularly target train stations and the passengers using them. The latest figures from the British Transport Police (BTP) reveal increases in the total number of reported crimes at some of the UK's busiest train stations—including London Waterloo, Clapham Junction and Manchester Victoria.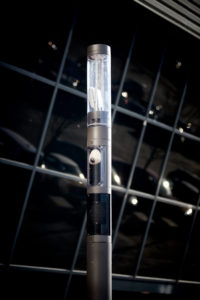 Smart lighting columns are fitted with embedded CCTV cameras capable of monitoring and recording events and feeding the footage back to an incident control room in real-time. When aligned with passenger notification boards, CCTV can help make positive identifications by facial recognition. The columns also have their own in-built Public Address (PA) system which station managers can use to put out alerts regarding delayed or cancelled trains or speak directly to passengers in one area of a station.
Combined, these features are able to provide an added layer of protection and monitoring so that security officials in an incident control room have a clear understanding of an event in real-time and can make quick decisions based on accurate information – both inside and outside the station. They also provide BTP officers with the evidence they may need to prosecute criminal behaviour.
In the event of an emergency—such as a station fire or an act of terrorism—the first priority is ensuring passengers remain safe. The second priority is enabling them to complete their journey.
Station staff can use the lighting columns to push out important security announcements and remind passengers of emergency evacuation procedures. The PA system when used in conjunction with the column's LED light ring is capable of physically guiding passengers to designated safe-zones.
As one of the core functions of this innovative lighting technology is Wi-Fi connectivity, officials can also distribute emergency notifications via the column's own Wi-Fi network to passengers' mobile devices, making them aware of incidents instantly and providing actions to guide them to safety.
Transforming the passenger experience
Modern passengers have come to expect a positive digital experience when travelling, which presents rail operators with a big challenge. By implementing smart lighting technology, operators can provide a more dynamic level of service and ensure that passengers using the network have the most enjoyable and hassle-free experience possible. An enhanced passenger experience can significantly improve customer loyalty.
In a retail context, Wi-Fi networks can be used by operators to send out the latest promotions and offers on tickets and refreshments, as well information regarding facilities at a station and the latest updates to train schedules.
With electric charging still not widely available across the UK rail network and only some train operators offering the facilities, passengers would be able to use the electric charging ports in lighting columns to charge consumer devices.
Vision of the future
Whilst smart lighting technology offers several benefits to passengers, it can also provide Network Rail and train operators with advantages. Firstly, by using energy-efficient LED luminaires to upgrade lighting infrastructure across the network, energy consumption can be reduced by between 50 and 70 per cent (in some cases this can be as high as 90 per cent). As a result, the cost of lighting the rail network can be significantly reduced, freeing up vital funds to be used on other regeneration projects.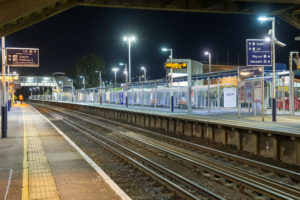 The most innovative lighting solutions can provide adaptive station lighting, giving operators flexibility in how lighting is used. By being able to control the lighting network via an internet connected device, lights can be dimmed based on footfall, fitted with passive infrared (PIR) sensors that activate the lights once movement is detected, or scheduled to remain active during planned engineering works or station maintenance. This not only provides a safe and comfortable environment for passengers but can facilitate further cost savings by only using energy when required.
Already capable of offering electric charging ports for vehicles as well as secure cycle storage, in the future smart lighting columns can be used outside stations to provide traffic alerts, to detect available parking spaces and provide live weather data—all of which will help improve the passenger experience even further.
Conclusion
Smart lighting columns—with their ease of installation and low-maintenance requirements— are an efficient solution to install across the rail network. Not only do they bring vital station infrastructures together in a single cost-effective unit, but they allow stations with limited external space to maximise their outdoor environments by reducing the volume of street furniture; minimising both the environmental impact and cost.
Smart lighting is no longer just a vision of the future but a viable reality. As the UK rail network gears up for its biggest upgrade in a generation, smart technologies can help revitalise train stations and enable them to become the transport hubs that 21st century passengers need.