Indian Railways Extend CCTV to Protect Women
Indian Railways have announced plans to install closed circuit television cameras (CCTV) at more railway stations. Currently, CCTV cameras are already installed on 344 stations. The plan for Indian Railways is to extend CCTV cameras at a further 1000 stations as part of the Nirbhaya Fund from the Ministry of Women and Child Development, which is dedicated to improving the safety of women. The total cost of the project will be ₹500 crore.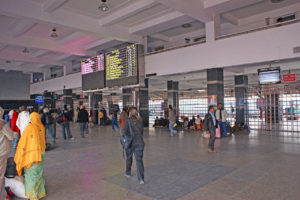 The installation of CCTV cameras forms a part of an Integrated Security System at 202 stations, with a total estimated cost of ₹252.76 crore. There are further plans to extend the roll-out of CCTV cameras at a total of 1000 stations, including Category 'C' suburban stations. This will translate to more than 35,000 CCTV cameras on Indian railway stations. There will be around 35 cameras per station, delivering feeds to servers at divisional headquarters. The feed will be kept for 30 days.
Indian Railways is currently undergoing an overhaul of its passenger services and safety, with a push on cleanliness as well as security. The CCTV camera installation at stations is a part of that drive, and has been put on the list of works to be undertaken in 2016–2017.
The Nirbhaya Fund was set up by the Indian Government's Ministry of Women and Child Development in 2013, dedicated to supporting initiatives which protect women. The fund is named for the pseudonym given to the 2012 Delhi gang rape victim. This move to put CCTV cameras in stations is an initiative to improve the safety of women on public transport.
Guidelines published by the Ministry of Women and Child Development in 2015 stated that:
"Women face violence on streets, public transport and parks… it reduces their ability to participate in school, work and in public life. It limits their access to essential services and enjoyment of cultural and recreational opportunities."

"In view of the above, Government has set up Nirbhaya Fund… [which] can be utilised for projects for women safety and security."