Russian Railways subsidiary RZD International has completed excavating the Čortanovci tunnel on the Stara Pazova-Novi Sad section of the railway line connecting Belgrade and Budapest.
The tunnel is now 91 percent finished.
The Čortanovci Tunnel is made up of two parallel single-track tunnel tubes, each of which is 2.2km long. After completing the first one in April 2020, the crews have have now finished boring the left tunnel tube.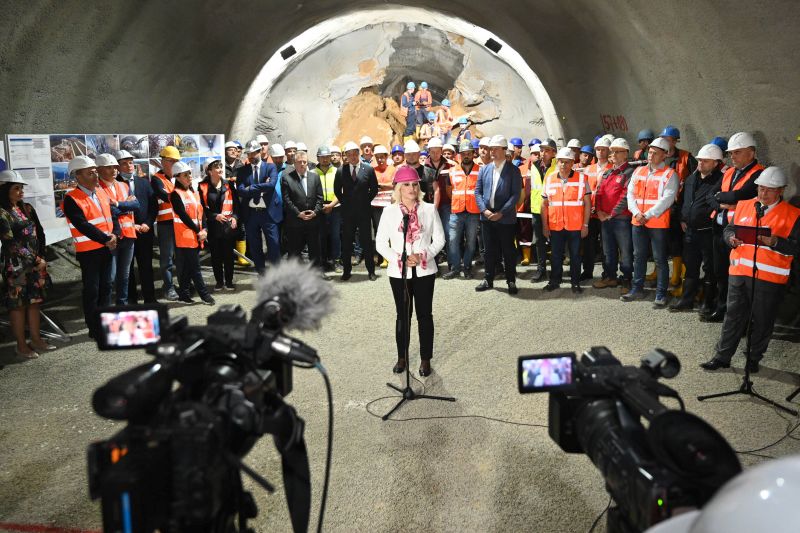 In addition to boring the tunnel, more than 1.3 linear km of permanent lining have been installed, as have anti-landslide protective structures. Furthermore, one of two transverse service walkways has been excavated.
Over the course of the entire construction project, more than 300,000 cubic metres of soil will have been excavated; more than 170,000 cubic metres of concrete will be laid and almost 12,000 tons of reinforcement and steel structures will be installed.
The Deputy Prime Minister of Serbia and Minister of Construction, Transport and Infrastructure, Zorona Mihajlović, who visited the site, welcomed the progress that has been made.
RZD International is implementing a major project for the reconstruction of Serbia's railways on a particularly important stretch on the line that connects the Serbian and Hungarian capitals. In addition to building the tunnel, RZD International is also constructing a viaduct. Together, they will allow trains speeds of up to 200km/h.
Beyond that, RZD is enhancing the Stara Pazova-Novi Sad high-speed double-track railway line. 28 structures are currently under construction, such as galleries, viaducts, pedestrian overpasses, and bridges. Stations are also being rebuilt.
RZD International and JSC Serbian Railways Infrastructure signed an agreement in January 2019, covering a comprehensive modernisation and reconstruction of the signalling, centralisation and blocking systems. A single dispatch centre for controlling train traffic in Serbia is also being built.
All of these upgrades will allow Serbia to engage in a higher level of management, digital planning, and forecasting of freight and passenger services. RZD says these works will be implemented in stages between 2023 and 2025.
Also read: