Plans for Major Transformation of Ilford Station Unveiled
Network Rail has submitted proposals for a new station building in Ilford as part of the improvements being delivered for the Crossrail project.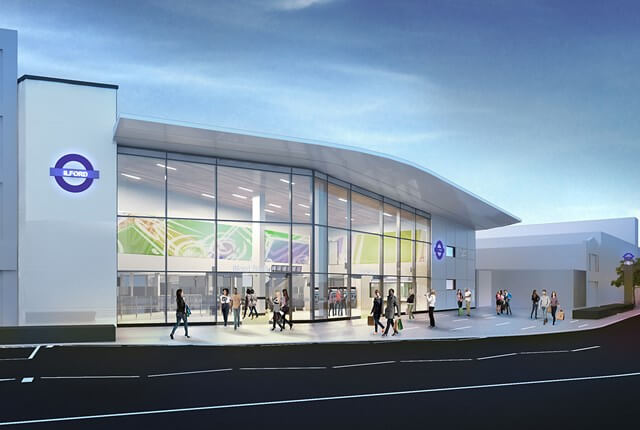 The proposals submitted to the London Borough of Redbridge include:
A new bright, spacious building with a striking glass façade that will let natural light to flood into the station
A new, larger ticket hall with a wide entrance and significantly longer gateline
New lifts providing step-free access from street level to all platforms.
The new station building has been designed to stand out as a recognisable landmark on Cranbrook Road and to be a prominent building that is visible from the surrounding area. Further improvements will also be delivered to prepare the station for the start of Elizabeth line services including longer platforms, improved lighting, signage, customer information points, CCTV and overhead information screens.
Transport for London (TfL) has recently opened a new ticket hall at Ilford station on York Road as part of its station upgrades. The London Borough of Redbridge is also carrying out improvements to the appearance of the local area around the station as part of work to improve public spaces.
From May 2017, the first new trains will be progressively introduced between Shenfield in Essex and Liverpool Street Main Line station. From May 2019, up to 12 Elizabeth line trains an hour will allow passengers from Ilford to travel right through central London, making it quicker and easier to get to a range of destinations across the capital.  
Matthew White, Crossrail Surface Director said:
"These major improvements will make travelling through Ilford station a vastly better experience for the many thousands of people who use it every day. The proposals for the striking façade and new, spacious ticket hall are designed to underline the importance of the station and of the Elizabeth line to the local area."
Matthew Steele, Crossrail Programme Director at Network Rail, added:
"This planning application represents a significant step towards preparing Ilford station for the arrival of the new train service. The proposed design not only looks great but will increase capacity and accessibility with the addition of step-free access. This enhanced design will therefore secure Ilford station's future to meet the expected growth in demand for rail travel."
Councillor Jas Athwal, Leader of Redbridge Council said:
"The arrival of the Elizabeth line will represent a milestone game changing moment for Ilford. Commuting times will be slashed and the Elizabeth line will rapidly link us to the City, West End and Heathrow Airport. The new landmark Ilford Elizabeth line station will enhance Ilford's fast-improving status as an emerging and well-connected place to live.

"The Crossrail project is proving to be a fantastic catalyst for regeneration and we're maximising the benefits as Ilford becomes a location of choice for developers and investors. Ilford Town Centre has a designated Housing Zone which will provide over 2,000 new homes including 600 affordable homes and we're driving through major street improvements which will revitalise the Town Centre."
Mark Woodcock, Associate Architect at Atkins, which has designed the new station building, commented:
"The new station design seeks to become the starting point for a wider regeneration plan for the London Borough of Redbridge. It is designed to be a significant presence, not only visible from Cranbrook Road, but also from Balfour Road and Ilford Hill, from where the station with its sloping and projecting curved roofline and glazed lift tower is intended to act as a common converging point from these routes."
For the original article, please click here.