London Bridge Redevelopment Partially Opens
UK infrastructure provider Network Rail has announced the opening of two-thirds of a new concourse at London Bridge Station in London. The stations is the fourth busiest in Britain. The new concourse is part of a five year redevelopment of the station, which is due to be completed in January 2018. Once complete, the completed concourse will be the size of a football pitch.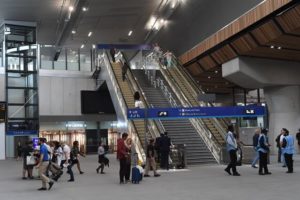 London Bridge Redevelopment
The station will house more than 80 retail units which are hoped to improve the local economy. A number of these units are reserved for local start-up companies. Passengers will also have improved connections and options to more destinations, including Cambridge and Peterborough.
The redevelopment is being carried out by Network Rail and Costain, who have worked with train operating companies Southern and Southeastern in order to keep the station operational for the 56 million passengers who use the station annually. Network Rail's construction crews, dubbed "the orange army" began construction on the south of the station and carried out the works in phases in order to construct new platforms and the concourse.
Mark Carne, Network Rail's Chief Executive, said:
"This is a big step towards the bigger, better railway passengers deserve. The opening of two-thirds of the concourse marks a major milestone in the redevelopment of London Bridge and, while there is plenty still to do, I am pleased passengers can now see the benefits beginning to come through.

"We are essentially rebuilding Britain's fourth busiest station – the tracks, the platforms and the infrastructure which enables trains to run – while keeping the station open and doing our best to keep passengers moving."
Richard Dean, Train Services Director at Southeastern, said:
"We would like to thank passengers for bearing with us during this crucial stage of the London Bridge rebuild. We're really pleased that you'll now be able to start using the new station."
Dyan Crowther, Govia Thameslink Railway Chief Operating Officer, said: 
"Our passengers are benefiting from the newly unveiled escalators, stairs and lifts and will be impressed by the new concourse.  We're looking forward to the completion of the station in 2018, with its new track and signalling, allowing the return of a new and improved Thameslink service at London Bridge."
Network Rail is currently undertaking a railway upgrade plan across the country. This, along with the government-funded Thameslink Programme, will improve north-south travel across London by 2018. The programme will deliver new tracks and up-to-date rolling stock to deliver more reliable services for passengers. Network rail is also "untangling" the track on the approaches to London Bridge to minimise the waiting time for trains in order to reduce delays.