Austrian Federal Railways Investing in Next-Generation Vehicle Maintenance
Austrian Federal Railways (OEBB) Technical Services are investing in next-generation vehicle maintenance. OEBB will spend 12 million euros to build a larger, modern hall for the professional maintenance of the new trains for Vorarlberg that will be deployed on local and regional routes.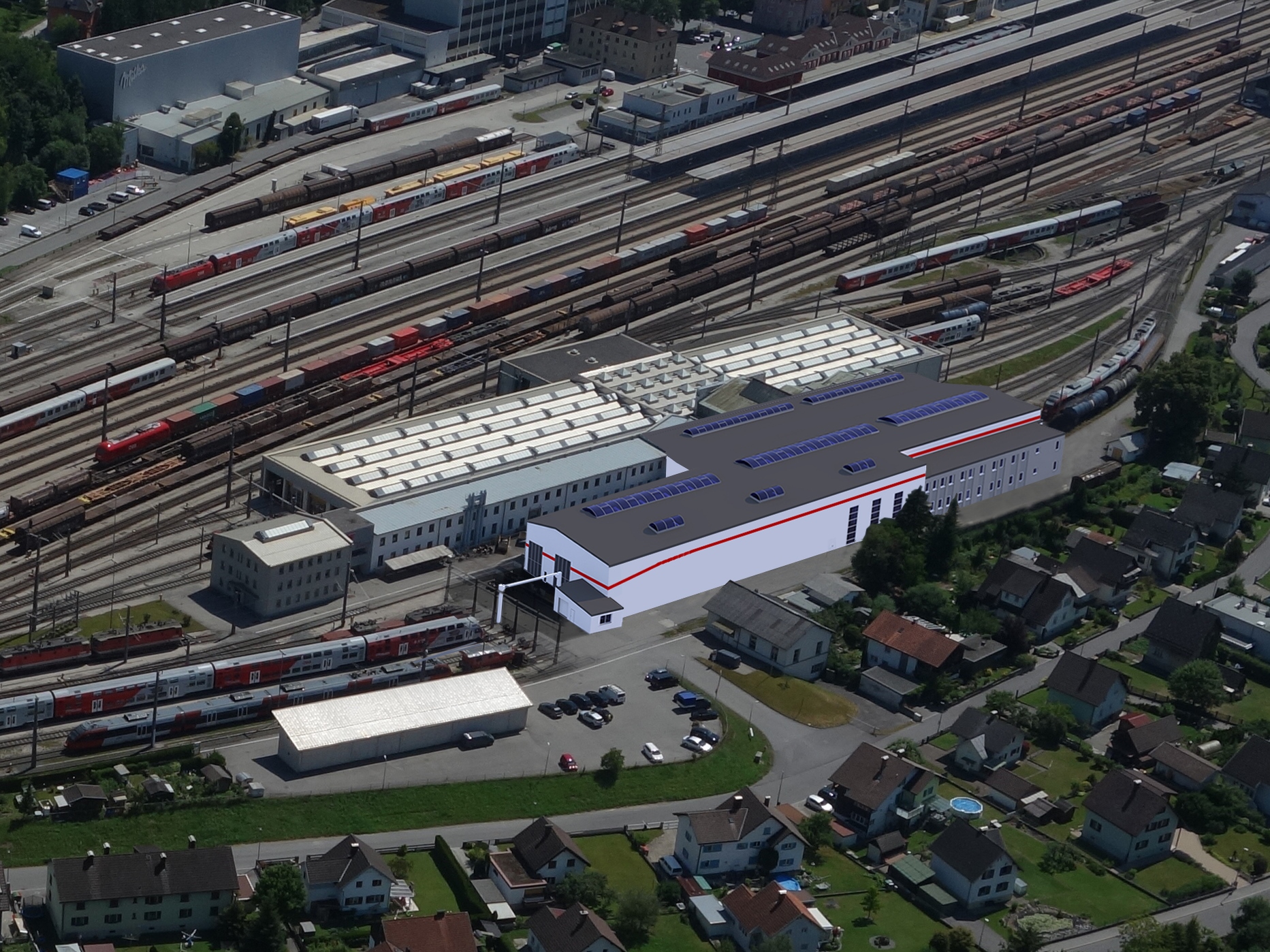 OEBB Technical Services
Trains operated by Austrian Federal Railways travel thousands of kilometres every day in order to get commuters and other travellers to their desired destination in a reliable manner. To guarantee quality, comfort and safety for passengers, professional and speedy train maintenance is a must. This is the role of OEBB Technical Services, which employs 3,600 people all around Austria. Optimised and efficient work processes, in maintenance too, ensure that trains remain available and reliable.
OEBB Maintenance Site in Bludenz
The Technical Services site in Bludenz is a central pillar for the maintenance of local and regional trains. It will be responsible for maintaining the new Cityjet TALENT 3 trains for Vorarlberg when they enter operation in 2019.
Read: First OEBB Cityjet TALENT 3 Arrives in Austria
Over the coming years the investment of around 12 million euros will develop the site at Bludenz Station into a cutting-edge maintenance hub for Vorarlberg. This will prepare the site for future challenges. The ground-breaking ceremony took place on Monday, 19 November.
At the heart of the new facility will be a service hall of more than 100 metres in length. Its design will be optimised for the maintenance of the new TALENT 3 trains. The TALENT 3 is 105 metres long, much longer than the TALENT 1. Bludenz will be given cutting-edge bogie drop systems, moveable catenaries, cranes and roof access work platforms throughout. The entire site has been designed with technical and ergonomic guidelines in mind.
The service hall will have two tracks and be 100 metres long. It will have a total area of 4,500 square metres. Construction works are scheduled to be completed in spring 2020.
Everything Under One Roof
In the future everything, from technical maintenance to toilet disposal to interior cleaning can be done in one place. The major investments in Bludenz will improve the facility. The funds won't just go towards constructing buildings out of steel, wood, glass and concrete and equipping them with the most cutting-edge machines. The investment also secures the high-skilled jobs of the 35 expert employees at OEBB Technical Services in Vorarlberg for the long-term. The important work in the Technical Services hall – maintaining the rolling stock – will be done during times when the trains are naturally not in service. This means outside of peak times and at weekends.
A new training site will also be built near the Technical Services hall in Bludenz. This future skills centre will ensure that Vorarlberg's future engineers will have received top-quality training.
Mandi Katzenmayer, Mayor of Bludenz, said:
"We're pleased about this important investment in environmentally-friendly regional transport. This new facility in Bludenz will generate huge added value for public transport in our state."
State Administrator of Vorarlberg Karlheinz Rüdisser said:
"With the ground-breaking ceremony today we are making a further statement with regard to public transport. Today is particularly important for the new generation of trains that will enter service in Vorarlberg in 2019, giving commuters an excellent level of comfort. I'm also pleased that this modern service hall will secure existing jobs and contribute to training young skilled workers in the future."