Network Rail Reopen Chiltern Main Line
UK Infrastructure operators Network Rail reopen the Chiltern Main Line between Banbury, Bicester and Leamington Spa following £76 million upgrade works on the tracks and the signalling system along the Chiltern Main Line. Signalling has been replaced through Banbury to an updated system which is controlled from the West Midlands Signalling Centre in Birmingham.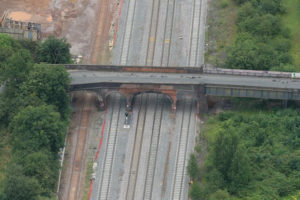 The works are part of the on-going Railway Upgrade Plan and will improve reliability and punctuality of services. Passengers between Birmingham and London as well as cross-country passengers will be better connected as a result. A portion of the work was carried out before the nine-day closure of services between Leamington, Bicester North and Banbury to minimise disruption.
The works included 14km of new rail and 50,000 tonnes of ballast at Banbury. Further, 24 new points have been installed. In addition to a new track layout and signalling at Banbury, a fourth platform has been added to give the station greater capacity and flexibility. The programme of works includes a new depot south of Banbury which is currently under construction. This will serve as a maintenance depot for the Chiltern Railways fleet.
Martin Ball, Area Director for Network Rail, said:
"This work was completed on time and with the least amount of disruption to passengers and is an important part of modernising the railway through the area to provide passengers with a more reliable, better railway.

"Our engineers worked quickly and safely to complete this work on time and on budget and we worked closely with the train operators involved to carefully plan these improvements to cause the least amount of disruption to passengers. I'd like to thank passengers for their patience while the improvements took place.

"Our Railway Upgrade Plan is delivering significant investment into the railway network which will provide a better, more reliable railway for passengers."
Dave Penney, Managing Director at Chiltern Railways, said:
"The work at Banbury was an essential investment in the long term reliability of the railway and was successfully delivered on time.  Through a modernisation of the signalling system,  Chiltern Railways services can remain some of the most punctual in the country.  The 18 month project is now complete and I would like to thank all of our customers who have shown patience and understanding during the improvements, particularly during the recent nine day line closure between Leamington Spa and Bicester."
Andy Cooper, Managing Director of CrossCountry, said:
"We are delighted this important work was finished as planned and that our customers are once again able to complete their journeys by train. We would like to thank everyone affected for their patience while this was taking place, and know that this investment in a bigger and better railway will benefit our customers for years to come."