Bombardier Downer EDI JV Wins Perth Contract
Bombardier Downer EDI Joint Venture (EDI Rail Bombardier Transportation Pty) has won a contract from Western Australia's Public Transport Authority (PTA) to supply an additional 10 three-car commuter trains consisting of 30 cars. The order is an extension of a contract relating to the Perth "B series" electric multiple unit (EMU) trains. Included in the contract is maintenance of the fleet.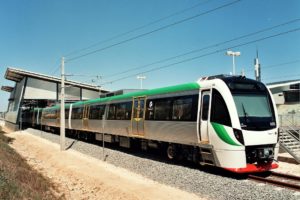 The contract is worth €340 million, Bombardier's share of which is valued at around €40 million. Bombardier Transportation owns 50% of the shares in the EDI Rail Bombardier Transportation Pty Ltd joint venture.
The Public Transport Authority have ordered the additional trains to meet Perth's growing suburban population and increased demand for commuter rail services. The asset management solution from Bombardier Downer will improve capacity on the commuter network and improve resilience of the A and B Series fleets. Reliability and availability will therefore be improved.
Rene Lalande, Managing Director, Bombardier Transportation Australia, said:
"We are delighted to continue to support our long-term customer PTA with these additional B Series EMU trains and maintenance services. In addition to increasing capacity on Perth's commuter network, these trains provide a comfortable and sustainable mobility solution for the city's growing community. Bombardier will also apply its asset management expertise to optimize the total performance of PTA's commuter fleets, boosting reliability and availability for the train operator and its passengers."
The "B series" EMU platform was designed locally by Bombardier in Australia. The new order will bring the total EMY flet in Australia (Queensland, Victoria, South Australia and Western Australia) to 1,180 vehicles. The trains will be fitted with BOMBARDIER MITRAC Energy Saver propulsion, which is standard on all Bombardier's EMU fleets in Australia
The trains will be built at Downer's plant in Maryborough, Queensland. Pre-assembly work will be carried out by Bombardier at its Australian manufacturing facility in Victoria. Delivery of the first train will take place at the end of 2019.