Toronto Orders 125 Bombardier BiLevel Commuter Rail Cars
Bombardier Transportation have announced that Metrolinx, the Province of Ontario's regional transportation agency for the Greater Toronto and Hamilton Area (GTHA), will purchase an additional 125 Bombardier BiLevel Commuter Rail cars to operate with CO Transit in Toronto. The order is worth €294 million. Production will begin in Thunder Bay in the second quarter of 2016. The final delivery will take place in the first quarter of 2020. The order will reinforce GO Transit's programme to meet ridership increases.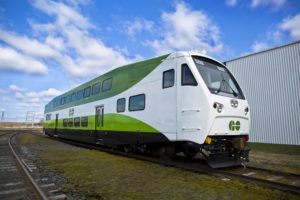 Bombardier BiLevel Commuter Rail Cars are the most popular double-deck commuter rail car in North America. There are more than 1,300 of the cars in operation or on order with 14 transit authorities in Canada and the United States. The modern cars have upgraded door and air conditioning systems. They are also highly energy efficient, and have improved amenities to enhance the passenger experience.
1.5 million Ontarians use Bombardier rail vehicles on their daily commuter on the Toronto subway, streetcars or GO Transit commuter trains. Bombardier's full range of products and services help transit authorities at every stage of the lifecycle of trains. Their services also extend to investments in advanced engineering, research and development and technology testing. Bombardier already maintains and operates GO Transit's commuter train fleet. It is the biggest commuter rail system in Canada.
Bill Mauro, MPP for Thunder Bay-Atikokan, said:
 "Bombardier is Thunder Bay's largest private sector employer. This investment, the latest in a long series of investments by our government in mass transit will help ensure that a significant workforce remains at Bombardier contributing greatly to the economy of Thunder Bay and Northwestern Ontario."
Michael Gravelle, MPP for Thunder Bay-Superior North, said:
"This is exciting news for Bombardier and our region. Investments like this, will create jobs and keep people right here in Thunder Bay working and our community strong for years to come."
Benoît Brossoit, President, Bombardier Transportation, Americas Region, said:
"We are proud of our long-standing partnership with Ontario. By providing industry-leading performance with our rail vehicles and services, Bombardier has been an ally in the development of public transit in the Greater Toronto and Hamilton Area for over 20 years. Today, with our manufacturing sites and thousands of local employees, our commitment to Ontario remains as strong as ever."