Bombardier Ukrainian Railways MoU
Bombardier Transportation have signed a Memorandum of Understanding (MoU) with Ukrainian Railways to look into the development of industrial activities in Ukraine. The parties have agreed to work together to create the optimum strategy to quickly and efficiently upgrade Ukrainian Railways' fleet of locomotives.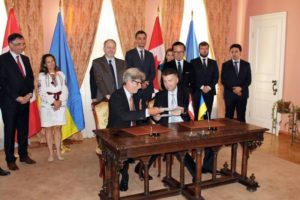 The agreement was signed in Kyiv on 11 July 2016. The signatories wereHead of the Board, JSC Ukrainian Railways Wojciech Balczun and Head of Locomotives Business Unit, Bombardier Transportation Erwin Gerber, in the presence of the Prime Minister of Ukraine, Volodymyr Groysman, Prime Minister of Canada, Justin Trudeau  Minister of Infrastructure of Ukraine Volodymyr Omelyan, and Minister of International Trade of Canada, Chrystia Freeland, .
Volodymyr Omelyan, Minister of Infrastructure of Ukraine, said:
"We are considering the possibility of cooperating with Bombardier in the joint production of electric locomotives in Ukraine. The work has already begun with the negotiations. We have agreed to establish a corresponding working group that will determine the main technical and economic parameters of the new traction rolling stock fleet."
Erwin Gerber, Head of Locomotives Business Unit, Bombardier Transportation, added:
"Bombardier, as a global leader in rail technology, is very proud to have been chosen by Ukrainian Railways, the largest rail cargo operator in Europe, to play an important role in their impressive transformation program aimed at modernising and replacing their locomotives fleet. We are very committed to contributing to the rapid and successful development of rail transport in Ukraine, which will enable deeper integration of the Ukrainian transportation network into the global transport system."
Bombardier Transportation have been in Ukraine since 2012. Its Rail Control Solutions site in Kharkiv already delivers a wide range of rail control services such as design, turn-key signalling, telecommunications projects and maintenance services. The site has already delivered signalling projects in Ukraine, including a Bombardier EBI Lock 950 CBI interlocking system to the Krasnograd ­– Lozovaya Line.