Financing from the European Bank for Reconstruction and Development (EBRD), the European Investment Bank (EIB) and the European Union allowed Moldova's state-owned rail operator Calea Ferată din Moldova (CFM) to acquire twelve diesel locomotives, which have now arrived in the capital, Chisinau.
These locomotives, by virtue of being more modern, are more energy-efficient than the country's existing, largely Soviet-built rolling stock.
GE Transportation, now part of Wabtec, manufactured the locomotives in Nur-Sultan, Kazakhstan. CFM issued a tender for the locomotives in 2018, in line with the EBRD's procurement rules, after which GE Transportation was awarded the contract.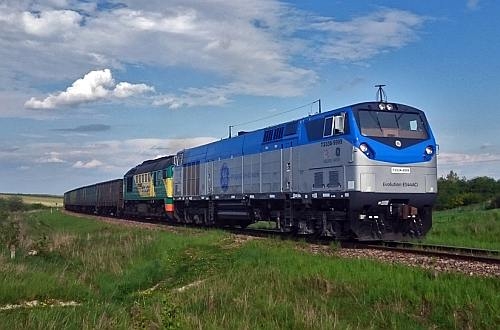 The President of Moldova, Igor Dodon, has said that managing Moldova's railways is a priority to revitalise the economy.
"Thanks to the locomotives' more powerful diesel engines, fewer operations will be needed. This will improve transport efficiency and reduce operating costs. The improved technical characteristics of the new diesel rolling stock will increase the interval between the scheduled maintenance to 92 days from 48 hours, significantly reducing the maintenance costs. They will also help reduce the consumption of diesel fuel by 15-20 per cent and oil by 35-40 per cent, resulting in significant savings."
Improving Moldova's Railway Infrastructure
The financing of the locomotives is part of a wider project to rehabilitate Moldova's railway infrastructure and bring about comprehensive reforms in CFM to improve safety, efficiency and corporate governance.
The tender for the railway infrastructure upgrade contract is currently ongoing, while CFM is putting in place an action plan to make its corporate governance better.
The total project cost is 110 million euros. Of this sum, 5 million euros is an investment grant from the EU's Neighbourhood Investment Facility (NIF). The remaining 105 million euros are loans from the EBRD and EIB.
New Railway Code
Moldova's parliament is about to adopt a new Railway Code. This legislation is based on EU Directives with the goal of bringing the country's railway up to the level laid out in the Association Agreement with the EU.
The agreement recognises the importance of modernising rail links to neighbouring countries, developing efficient traffic management systems such as ERTMS to ensure interoperability. The agreement lists EU Directives governing railways with regards to market and infrastructure access, technical and safety conditions, interoperability, and combined transport.
Moldova has close ties to EU Member State Romania but is not currently a Member State itself.
Also read: