India: Lucknow Metro Begins Commercial Operations
A host of Indian officials gathered to inaugurate the first phase of the new Lucknow Metro on September 5, ahead of the official opening to the public today, September 6.
The event was held in the presence of honourable Union Home Minister Shri Rajnath Singh and Uttar Pradesh Chief Minister Shri Yogi Adityanath.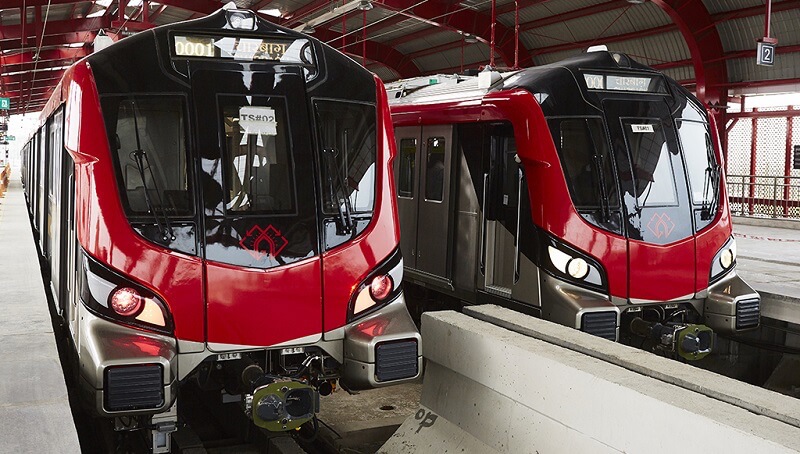 The Alstom-built metros are designed in Bengaluru and manufactured at Sri City and Coimbatore, supporting the Government's 'Make in India' campaign.
Lucknow Metro
Alstom was awarded the €150 million contract in September 2015 by Lucknow Metro Rail Corporation (LMRC) to provide 20 metro trainsets, each of four cars. The Metropolis trainset for Lucknow has 186 seats arranged longitudinally, and includes two dedicated zones for passengers with reduced mobility.  These trainsets will circulate on the city's new metro line, which will be around 23 km long and will include 22 stations, of which 19 are elevated and 3 underground. The line is estimated to carry about 430,000 passengers per day at first, increasing to over 1 million by 2030.
'Dynamism and Rapidity'
The design of the train is a tribute to the city's cultural richness, with the front end conceived in the spirit of the gates to some of the city's most important monuments, including the Bara Imambara congregation hall, Asifi mosque and Rumi Darwaza gateway. The V-shape of the lower section of the front symbolises 'dynamism and rapidity', while the livery is both highly modern and very much inspired by the traditional cashmere craftsmanship of Lucknow.
Urban Signalling and Infrastructure
The project also includes Alstom's Urbalis Computer Based Train Control (CBTC), the second such signalling system installed by the company in India. It is jointly supplied by Alstom's sites in Bangalore and Saint-Ouen in France. The first one was rolled out in Kochi in June 2017.
Bharat Salhotra, Vice President – Sales & Business Development, Asia Pacific commented:
"Alstom welcomes the commencement of commercial operations of Lucknow metro. It is an honour for us to contribute towards Government's 'Make in India' plans. The project is a testimony of our commitment to make India a world leader in urban mobility – both in terms of technology and flawless execution. We look forward to continued engagement with the state of Uttar Pradesh to meet their transport infrastructure needs in their growing cities".
Currently, Alstom is executing metro projects in several Indian cities including Chennai, Kochi and Lucknow where it is supplying Rolling Stock manufactured out of its state of the art facility at SriCity in Andhra Pradesh. Additionally, urban signalling and infrastructure projects have been undertaken by Alstom in Kochi, Lucknow, Bengaluru, Chennai, Jaipur and Delhi.
Original article © Alstom.
FOR ALL THE LATEST INFORMATION, NEWS, IMAGES, VIDEOS AND ARTICLES ON ALL ASPECTS OF ROLLING STOCK, PLEASE CLICK HERE.