Alstom and Lucknow Metropolis Metro Car Revealed
Alstom and Lucknow Metro Rail Corporation have presented the design of Alstom's Metropolis for Lucknow. The design of the Lucknow Metropolis harks to the city's cultural history. As the capital of Uttar Pradesh, and with a population of three million, the Metro is expected to alleviate the city's demand for mobility.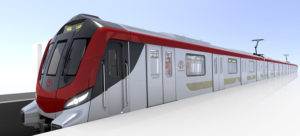 The unveiling took place at a ceremony attended by Akhilesh Yadav, the Hon'ble Chief Minister, Kumar Keshav, Managing Director of LMRC and Bharat Salhotra, Managing Director of Alstom India and South Asia.
Lucknow Metropolis
The train's design references the gates of the most important monuments including the gates of Bara-Imambara, the Asifi Masjid and the Roomi. It also takes inspiration from the enthusiasm and speed with which the Lucknow Metro project was embarked upon. The exterior livery is at once modern and traditional, taking its inspiration from traditional cashmere craftsmanship which made Lucknow famous.
Internally, the Metropolis provides 186 seats in a longitudinal configuration, with two zones for passengers with reduced mobility. The metro also features display screens for travel information at convenient places to make them visible to all passengers.
The original order for the trainsets was placed in Sepember 2015, part of a contract with LRMC to provide 20 four-car Metropolis trainsets. They will operate passenger services on the city's new metro line. When completed, the line will be approximately 23km long, with 22 stations, 19 of which will be elevated and three of which will be located underground. The line is expected to transport around 430,000 passengers a day initially. This figure is expected to increase to one million by 2030.
Alstom India
The trainsets will be manufactured at Alstom's Sri City and Coimbatore manufacturing plants, in India. The signalling system will be produced by Alstom's sites in Bangalore, India and Saint-Ouen, France jointly.
Alstom India caters to a growing market, having won contracts to supply metro projects for cities including Chennai, Delhi and Kochi.