Alstom Wins Contract to Overhaul 23 Locomotives for Akiem
Alstom has been chosen by Akiem, a French locomotive leasing company, to carry out the mid-life overhaul of 23 locomotives. The contract follows a first agreement signed at the end of April 2016 for the mid-life overhaul of 7 locomotives of the same type, operated in Morocco.
The BB 36 000 locomotives were designed and manufactured at the Belfort site and entered service in 1996. With this new contract, Alstom accompanies its customer Akiem in extending the life and commercial operation of the locomotives by about 15 years. These operations are worth €20 million.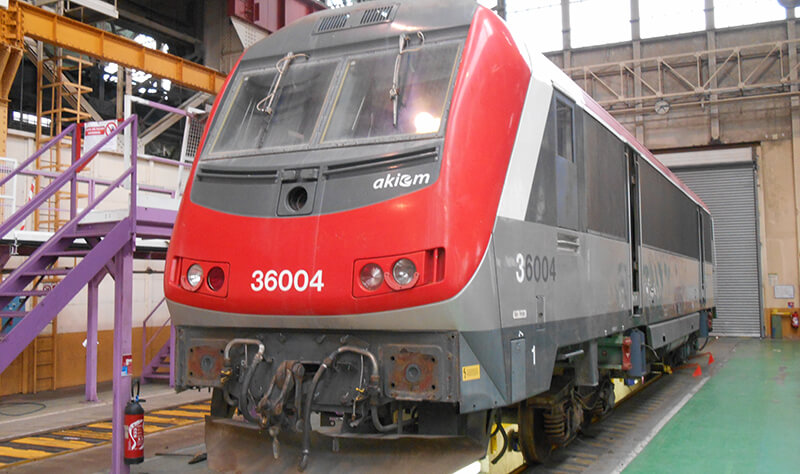 Locomotive Maintenance Services
The locomotive maintenance work covers overhauls to be carried out after 20 years, including bogie overhauls, obsolescence monitoring, the repair of parts and modernisation of driver's cabins. The operations will be carried out by the Services team at Alstom's Belfort site with the contribution of Alstom's service centres in Le Creusot (for the bogies), Ornans (for the traction motors), Tarbes (for the traction drive) and Villeurbanne (for the electronics). As part of the first firm order, a first locomotive is currently in production in Belfort. This new contract will ensure continuity of production, with the last BB 36000 scheduled to be delivered to Akiem by 2024 at the latest.
According to Fabien Rochefort, President of Akiem group:
"This technical and industrial collaboration with Alstom has allowed us to define a programme of overhauls in line with our commercial ambitions for this fleet, which we intend to deploy in France as well as in the France-Italy and central European corridors"
Jean-Baptiste Eyméoud, President of Alstom in France, said:
"The mid-life overhaul of this fleet of 23 additional locomotives will allow us to pursue the development of the services activity at Belfort, as well as our investment and skills development plan"
Alstom's Belfort Site
The Services activity at the Belfort site currently employs more than 50 people and focuses on the following 4 activities: operational maintenance of locomotives, accident repair for all types of trains, mid-life locomotive maintenance, and the application of modifications during the warranty period. Thanks to its team of engineers, the Belfort Services department has become the leading French provider of private maintenance of ECM-certified locomotives (Entity in Charge of Maintenance, in line with EU regulation 445/2011) for all four functions (supervision, development, fleet management and execution).
Original article © Alstom.
FOR ALL THE LATEST INFORMATION, NEWS, IMAGES, VIDEOS AND ARTICLES ON ALL ASPECTS OF TRAIN OVERHAUL/MAINTENANCE, PLEASE CLICK HERE.