Internet from Space for Seamless Connectivity says Deutsche Bahn
Deutsche Bahn has announced that its DB Digital Ventures organisation – which was set up to aid Deutsche Bahn's investment in start-ups with innovative, disruptive ideas, especially in the realm of data-driven businesses – will be participating in a young Canadian space enterprise. By investing in Kepler Deutsche Bahn is banking on innovative satellite technology with the goal of fast and safe data transfer. Kepler is DB Digital Ventures GmbH's tenth investment.
Professor Sabina Jeschke, Member of the Management Board at DB for Digitalisation and Technology, said:
"Uninterrupted real-time communication is the foundation for all further progress in digitalisation. Through its satellite network Kepler is making the Internet of Things available around the world, regardless of mobile phone masts, national borders and roaming agreements. It's a real pioneering achievement with great potential, particularly for international freight transports and logistics."
Mina Mitry, CEO of Kepler, said:
"We're very pleased about the new partnership with DB as one of the biggest mobility providers in the world. We're looking forward to developing applications for the transport and logistics sector together."
Kepler Nano Satellites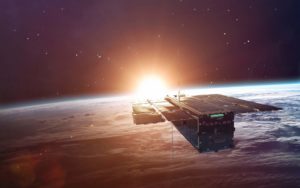 Kepler was established in Toronto in 2015. The company has 20 employees and is setting up a global communications network via which can be used to run Internet-of-Things applications any time, anywhere, independent of mobile phone providers. To achieve this, Kepler will launch 140 small satellites – the size of lunchboxes – into Low Earth Orbits. This satellite-based IoT solution will allow global positioning as well as the transfer of data, such as about the status of goods being transported by freight train through several countries.
Starting in 2022 moving containers will be able to communicate in real-time via sensors. For logistics customers this would mean a greater level of quality along the supply chain and a seamless tracking, even in areas where there is no mobile phone network.
The system can also be used in a complementary fashion to close any kinds of gaps in the digital network on the ground. The Kepler technology has its own protocol for satellite communication, thereby offering the highest security standards.
Antenna systems developer Phasor announced last month that testing between Kepler's first in-orbit nano satellite, launched in January, and Phasor's electronically-steered wideband antenna had been successful.