The Current Impact of Digitisation on the Rail Industry
By Keri Allan
Digitisation is impacting every area of the rail industry, from train maintenance through to ticket sales.
As the industry looks at ways to make the sector 'smart', digitisation is helping streamline activities, lower costs, connect systems and enhance customer experience.
François Deschamps, Head of Global Digitalisation Technology, Bombardier Transportation, points out:
"We see that digitalisation helps us improve our performance – quality, time, cost – but also opens new business opportunities"

"All areas or functions of the business are impacted. It could be better management of suppliers via a blockchain approach, improved forecast of maintenance tasks via artificial intelligence or production increase on the shopfloor by applying Industry 4.0 concepts."
Laurie Tolson, Chief Digital Officer at GE Transportation, continues:
"The digitisation of rail is the biggest opportunity that exists in the industry today"

"As rail operators navigate a dynamic environment, it's critical to find ways to improve efficiency and customer service levels to better compete against other modes of transportation.

"Digital solutions deliver on those imperatives and the results speak for themselves – just a one percent improvement in efficiency across fuel use, asset utilisation, car dwell and network velocity adds up to nearly US$6bn in savings per year across the industry"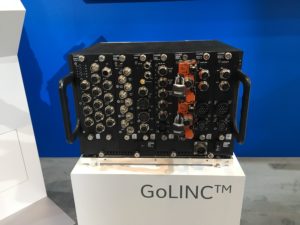 GE Transportation provides digital solutions to many areas across the industry, from train performance to transportation logistics.
With applications in asset performance, train handling, network optimisation and supply chain visibility, it's seen digital solutions deliver results such as a 10–25 percent reduction in mainline failures, an average of 10 percent in fuel savings, a 10 percent improvement in network velocity and a 40 percent increase in rail volume.
Tolson notes:
"For example, our smart, automated cruise control system Trip Optimizer saves around one million gallons of fuel per week"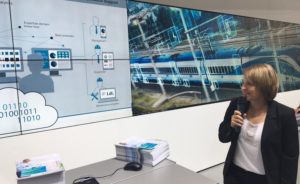 Another example comes from Siemens. Its Mindsphere platform is a cloud-based, open Internet of Things (IoT) operating system, which powers several of its digital solutions including Railigent.
This allows operators to manage transportation assets more effectively, utilising sensors to anticipate issues before they occur.
Gerhard Greiter, Head of Mainline Rail Automation at Siemens, explains:
"For instance, if a train door is closing slightly slower than the rest, operators can bring that vehicle in to have the issue corrected before it causes a delay"

"This technology decreases downtime by 30–50 percent and lowers maintenance costs and energy consumption by 10–15 percent."
In addition to the operational benefits, Tolson believes that digitisation has fostered culture change that is helping to transform the rail industry. As operators embrace digital tools to tap into previously unused data and leverage new technologies to monitor and respond to dynamic conditions in real-time, they are learning to appreciate the power of information sharing and collaboration. She says:
"In short, it's changing how people work – from reactive to proactive, empowering workers with new capabilities that are transforming the delivery of freight. As organisations extend that mind-set to their supply chain partners, the entire industry can benefit with enhanced visibility for better planning and optimisation"
Although many rail suppliers enthuse over the benefits of digitisation, there are those that are unconvinced its potential is being fulfilled.
River Tamoor Baig, Chief Executive and Founder of Hack Partners, notes:
"I don't think it has changed the industry in a meaningful way so far other than the industry recognising it needs to focus on it more. It's changed certain organisations and how they operate, but on an industry level, more needs to be done"
Phil Mortimer, Project Director for TruckTrain Industries and Innovative Transport Technologies (IT2), continues: 
"Certainly replacing outmoded mechanical and analogue systems seems worthwhile, but are we really seeing the benefits in terms of reduced cost and greater reliability? Too many applications appear to be vulnerable to failure and may not be as resilient as claimed – and in the harsh operating environment of the railway, resilience is essential"

"Nor am I convinced that the proliferation of systems has reduced the industry cost base or moved productivity to levels that would make an impact in real head-to-head competition with road freight"

"Digitisation is vital – but as we've seen with initiatives such as the European Railway Traffic Management System (ERTMS), there's more than an element of 'emperor's new clothes' in the promises being made."
But whatever your view on the current impact of digitisation on the rail industry, you cannot deny the fact that suppliers are working hard to offer new technical solutions.
Bombardier Transportation, for example, recently created a global digitisation group and last year collaborated with Deutsche Bahn, Siemens and SBB to create the Beyond1435 platform, designed to foster innovation around mobility and logistics.
All the main players have grand ideas of how the future 'digital' rail industry will look.
Deschamps adds:
"In the near future factories will be Industry 4.0 standard and transactions between train authorities, car builders and suppliers will be managed automatically via blockchain"

"Maintenance workers will be empowered by digital solutions such as augmented reality, exoskeletons and training tools will be enhanced with virtual reality."
Greiter concludes:
"The industry will continue to see digitisation further extend into the rail infrastructure"

"Cloud-based interlockings allow for a decentralised, intelligent, connected network, where signals and points can be controlled from much greater distances. The Norwegian Railway will become a fully connected network with cloud-based interlockings by 2034, with the first line completed in 2022.

"We'll also further see the transformation of train stations. Digital station managers will be able to connect railway stations with passengers through cloud-based control software. Through this portal station status and security and passenger information will allow passengers not only to receive an improved passenger experience, but also play a role in enhancing station operations"