Augsburg Mobility Hub – Installation of a Calenberg Continuous Mass-Spring System at DB's Augsburg Central Station
Besides extensive modernisation measures of the DB facilities, Augsburg's main railway station is being tunnelled under the DB tracks for a tram line to connect local public transport directly and conveniently to regional and long-distance traffic. The implementation of the project is planned in time shifted construction phases, the completion of which is expected by the end of 2023. For the new double-track tram line, a continuous mass-spring system is planned in the area of the station building and the DB tracks. The highly elastic USM 1000 W sub-ballast mat will be used for the floating slab track.
To achieve a significant reduction in structure-borne noise and vibrations for the historic station building, the DB track systems and the tunnel structure itself, the FF track support slab is supported on Calenberg USM 1000 W as a floor mat. The mats are delivered from the factory cut to size and laid in sections across the axis of the track. USM G 1023, which is also prefabricated to size, is applied as side mat. The use of prefabricated mat lengths minimises cutting work on site and reduces the construction time of the mass-spring system accordingly.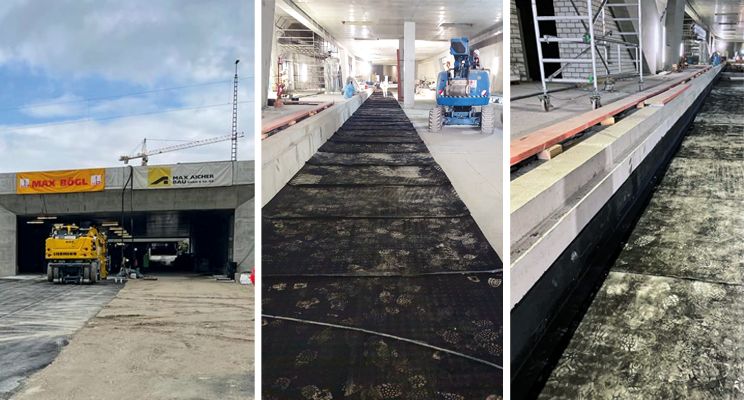 This article was originally published by Calenberg Ingenieure.
High performance rubber material for long-life tracks:  For decades, Calenberg Ingenieure has been conducting research in the field of elastomeric materials technology and is a solution provider for elastic component mounts in the fields of construction, industry, the environment and railways.
 All activities of Calenberg Ingenieure are scientifically based and the physical measured values and data of the products are approved by official and independent institutes. Constant research and development, over 45 years of experience and certified quality management is the reason for choosing Calenberg Ingenieure for successful projects around the world.