Deutsche Bahn (DB) has begun construction of its new Cottbus railway depot in Germany's Lausitz region.
This new facility will support the expansion of its ICE fleet, as DB plans to have 450 ICE trains in service by the end of the decade.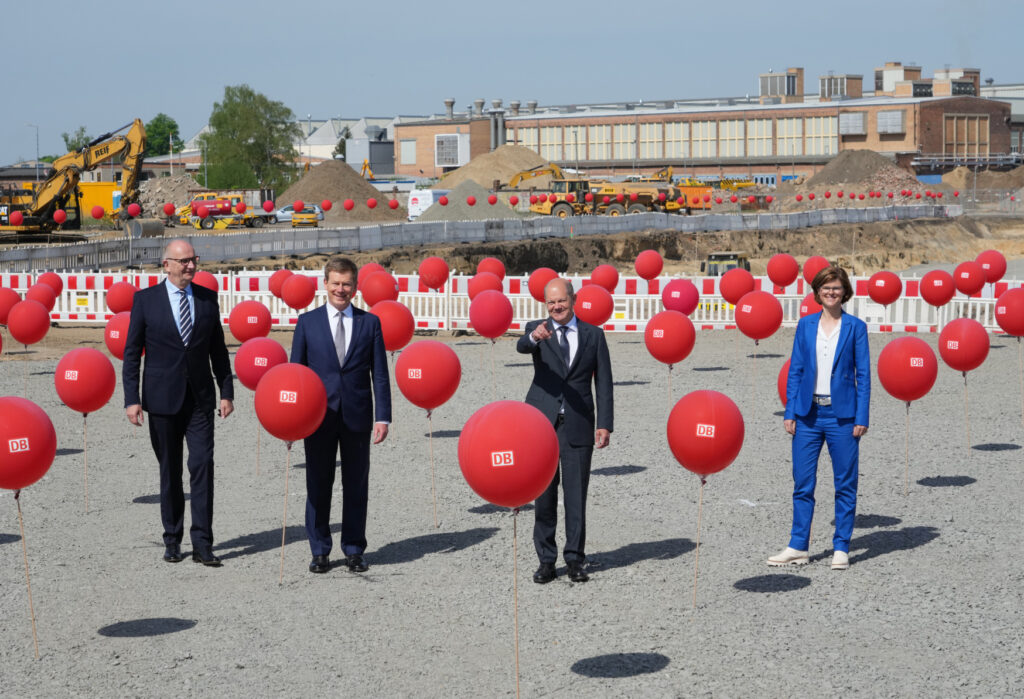 The new depot is being built in front of existing DB facilities in Cottbus. The first hall has two tracks and is 445 meters long; the rest of the hall will have four tracks and be 570m long.
Bogie changers specially developed by DB are going to be installed in the hall floor, which will enable employees to move the bogies out to the side for further processing without any heavy lifting.
Thanks to the scale of the site, which also has elevated rails, a 374m long XXL ICE with 13 cars can enter in full and two trains each around 200m in length can fit on the tracks one behind the other.
This will enable employees to work on all the cars at the same time, speeding up maintenance. For example, the overhaul of an ICE 4 currently takes up to five weeks, but is expected to take less than two at the new facility.
At a special ground-breaking ceremony for the first of two workshops on the site, 500 red balloons were used to map out the facility's floor plan. These also symbolised the 500 jobs and apprenticeships the workshop will support when it opens in 2024.
Upon completion of the second workshop in 2026, the maintenance facility will support a total of 1,200 jobs.
This project is important to the Lausitz region, which is known for its coal industry. The German government wishes to phase out this fossil fuel and these new jobs will help the local community move into more sustainable work and make the Lausitz a model region for climate protection and economic growth.
"Rail secures more than half a million jobs in Germany. New technologies with highly qualified jobs make the environmentally friendly mode of transport more and more attractive.
"With a clear focus on this mode of transport, we not only pursue active climate protection but also comprehensive employment and structural policies. This plant is another positive contribution to structural change in the Lausitz lignite mining area because the investments made here strengthen both the region and rail transport throughout Germany."