Innotrans Premier of Frauscher Tracking Solutions FTS
Frauscher Sensor Technology have announced that their next generation of tracking technology, Frauscher Tracking Solutions FTS, will premier at InnoTrans in Berlin in September 2016. The latest innovative functions of their axle counter Frauscher Advanced Counter FAdC.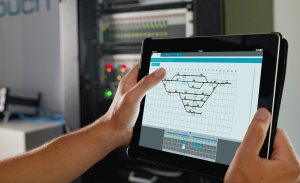 The new sensor technology will simplify system integration, giving railway operators the information they require to operate, protect, manage and monitor their operational network. Innovation using fibre optic technologies, including Distributed Acoustic Sensing (DAS) within the wheel detection and train tracking industries, have inspired Frauscher to develop Frauscher Tracking Solutions FTS.
Frauscher Advanced Counter FAdC®
The new Frauscher Alarming and Maintenance System FAMS is a compact solution to enable operators to monitor all their Frauscher axle counter components at a glance. The interface uses diagnostic information generated by one or more Frauscher Diagnostic Systems FDS and to give operators the information they need to plan preventative and regular maintenance works, thus significantly reducing wasted costs of train operations.
The configuration of components can be carried out more rapidly using Frauscher Configuration Tool FCT; a software which supports concepts for different user groups. It has an intuitive interface with varying levels of functionality to suit the user's competence. It delivers real time information, and an overview table as well as individual text files. It also allows users to save and reuse project templates in the case of common system layouts. The FCT is intended to streamline the process of commissioning a system, and generate savings by reducing working times.
Frauscher Alarming and Maintenance Systems FAMS and Configuration Tool FCT compliment the existing portfolio of the Frauscher Advanced Counter, including as the Frauscher Diagnostic System FDS, the Advanced Service Display ASD or the Adjustment and Maintenance Box AMB, in order to simplify the transmission, sorting and use of diagnostic information.
Michael Thiel, CEO Frauscher Sensor Technology, said:
 "This exciting and proven technology opens up a wide range of applications with the capability to track trains, monitor asset condition, secure infrastructure and protect personnel in real time using one single solution. Integrating Distributed Acoustic Sensing with well-proven railway technologies such as axle counters or wheel detection systems significantly improves the way trains are tracked unlike any other existing technology and will lead to a revolution in railway operation."