Reliability, Accessibility, Maintainability, Safety: IGW Further Invests in Customer Comfort
Having been active for many years in the railway market, we recently decided that further investments in customer comfort are necessary.
Besides providing our customers important aspects of the product with high-quality engineered new-build products, we understand that supporting our customers with aftermarket activities is at least as important. Now more than ever, Reliability, Accessibility, Maintainability, Safety (RAMS) as well as life- cycle costs (LCC) are important aspects of the product range.
Therefore, we recently chose to extend the scope of our supply needs by providing a wide range of aftermarket services for rolling stock OEMs and operators.
A big advantage of this extensive roll-out is that our customers and end-customers won't now have to rely on so many different suppliers and service providers, which in turn makes us an even closer partner. Our aftermarket activities will consist of five main areas: repair, maintenance and overhauls carried out on all rail gearboxes; overhaul of entire wheelsets; supply of spare parts; reengineering; and assembly and test training.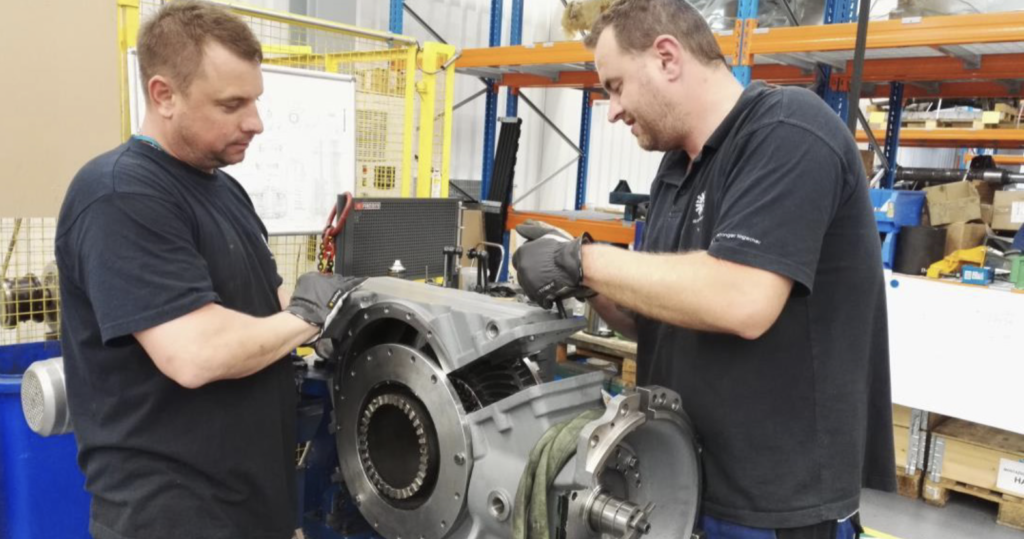 Repair, Maintenance and Overhauls Carried Out on All Rail Gearboxes
Besides providing services for gearboxes produced by IGW, we can also provide a full range of aftermarket activities on gearboxes made by third parties. We will have a very flexible attitude with regards to major assignments. For example, we are happy to go into the field or receive goods at one of our plants or service locations in order to perform the required aftermarket services. We can further give our customers the guarantee that service contracts can run for the entire lifespan of a gearbox. If challenges require further analysis, we will co- operate with universities or special investigation labs. If IGW is doing the overhaul, maintenance or repair, rest assured that we provide a warranty in line with the works done.
Overhaul of Complete Wheelsets
The total cost of ownership related to wheelset-overhaul should not be underestimated. There are a number of factors causing costs to go up for our customers and end-customers, such as logistics chains, the dedicated project management required, the potential, related quality risks, and customer overheads. Besides all this, customers want to reduce the number of suppliers as part of their efficiency strategy. We are now proud to announce that we will be able to maintain entire wheelsets as well as just gearboxes. As an additional benefit to our customers, we are thrilled to announce that we have started to install our own wheel presses in each of our plants globally, of which the first one is already installed in our plant in Brno, Czech Republic.
As a planned investment we will have wheel presses installed in our plants in India (Pune), China (Suzhou) and America (Zanesville OH). The installation of the wheel press in each of our facilities will also allow us to enter the market for spare axles and bearing boxes. In short, we are convinced that having our own wheel presses will make the lives of our customers easier as this strongly reduces the total cost of ownership with all its related hurdles. On top of all the advantages mentioned, we can provide a balanced warranty on each and every wheelset overhaul activity we provide.

© IGW
Supply of Spare Parts
This service is mostly aimed at customers who want to perform the maintenance of their rolling stock by themselves, but need the correct and original spare parts to do so. We are happy to offer those customers gears, cases, labyrinths, covers, bearings, bearing bushes and many more original quality parts. On top of that, these spare parts are not reserved exclusively for gearboxes made by us, but also for those made by any other gearbox manufacturer in the world. All of this is aimed at making life easier and more transparent for our customers.
Reengineering
Our reengineering service is aimed specifically at gearboxes not made by IGW. Whenever a customer encounters problems with a gearbox, wants to refurbish a running fleet, do overhauls, needs re-ratio actions and/or requires any possible aftermarket activity on a rail gearbox, we are braced and ready to help by tracking down the problem by reengineering the gearbox. Our expertise in this field allows us to execute all such activities in a trusted and qualitative way.
As an added bonus to our customers, we always design and improve the gearbox design based on the build-in space and technical specifications provided by our customers. In other words, any reengineering process will be customised to that specific customer.
Assembly and Test Training
Finally, when customers decide to maintain and repair their rolling stock themselves, we absolutely want to ensure that those customers have the correct knowledge to do so. Hence why we are now ready to train our customers' employees. Furthermore, we can supply routine test benches to our customers and train them to carry out these tests themselves. This way, they are certain that their gearboxes are ready for use upon repair or maintenance.
Additional Services
Apart from the above mentioned aftermarket services, we offer several additional services. We can overhaul any brand of existing rail gearbox couplings as well as replace any brand of couplings with IGW couplings that we design, produce and supply in-house.
Furthermore, we can provide IGW bearings as well as rubber and metal elements. As mentioned earlier, we are available to assist in re-ratio projects. If a rolling stock operator decides to upgrade the motor in vehicles that are in refurbishment,
a new gear ratio may need to be implemented into the existing gearbox. That is where we come in to provide them with a high-quality service.
In short, we have introduced a number of aftermarket services to better aid our customers when they want to maintain, repair or overhaul their rolling stock. We firmly believe that this move will make us an even closer partner to our customers. It is another step in the process of making IGW a complete service provider, making life easier for our customers as they will have to rely on fewer different partners.
Are you involved in any aftermarket activity as discussed above and want to simplify your scope of work while reducing your cost and risk? Please trust IGW to support you!