Metrowagonmash Modernise Budapest Metro Trains
Metrowagonmash, a subsidiary of the Transmashholding Group, has delivered the first of 222 cars to be refurbished for the Budapest Metro. The six-car metro train, which has been overhauled and modernised, was delivered at a ceremony attended by Janos Balla, Ambassador Extraordinary and Plenipotentiary of Hungary. The lifecycle of the car has been extended by 30 years.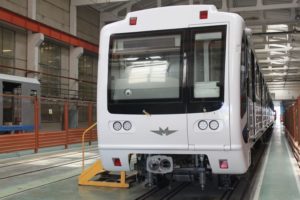 Significant Improvements
Following the refurbishment, the train is significantly more reliable. It will also be easier to maintain. The driver's cab has been improved with a fully modernised cab and desk. The customer experience has also been improved with a more comfortable and aesthetically pleasing interior and exterior. The cars now feature video surveillance systems to improve safety, as well as air conditioning systems.
The power consumption of the train has been reduced. The head car masks and bodies have been replaced and the carbody completely renovated. The train control system has also been updated, as well as the air compressor systems, brakes and traction drives.
Metrowagonmash contracted with Budapest Transport Company (BKV) in 2015 to renovate the rolling stock. The contract provides for the overhaul and modernisation of 222 cars in total  (185, ten and 27 cars of 81-717/714, 81-717/714-2M and Ev3 models, respectively).