For its concept, HÜBNER is making use of as many standard components as possible. Customers should be able to build a long bus with a manageable degree of adaptation. At the present time, high-capacity buses represent a market with relatively modest piece numbers, but HÜBNER is already convinced of the ultimate success of the concept. In connection with the development work that has already begun, it could be possible to have a corresponding vehicle ready for the market in approximately three years.
HÜBNER At the Busworld Europe Exhibition in Brussels
Busworld is the world's largest and longest-running exhibition for urban buses and touring coaches. Every two years, new developments in the areas of bus manufacturing and accessories as well as public transport and bus travel are presented. HÜBNER will be present at the exhibition in Hall 3 at Booth 317 as well as in Hall 5 at Booth 527, together with its subsidiary companies HTG, Hemscheidt-Fahrwerktechnik, GWU and Plastocell.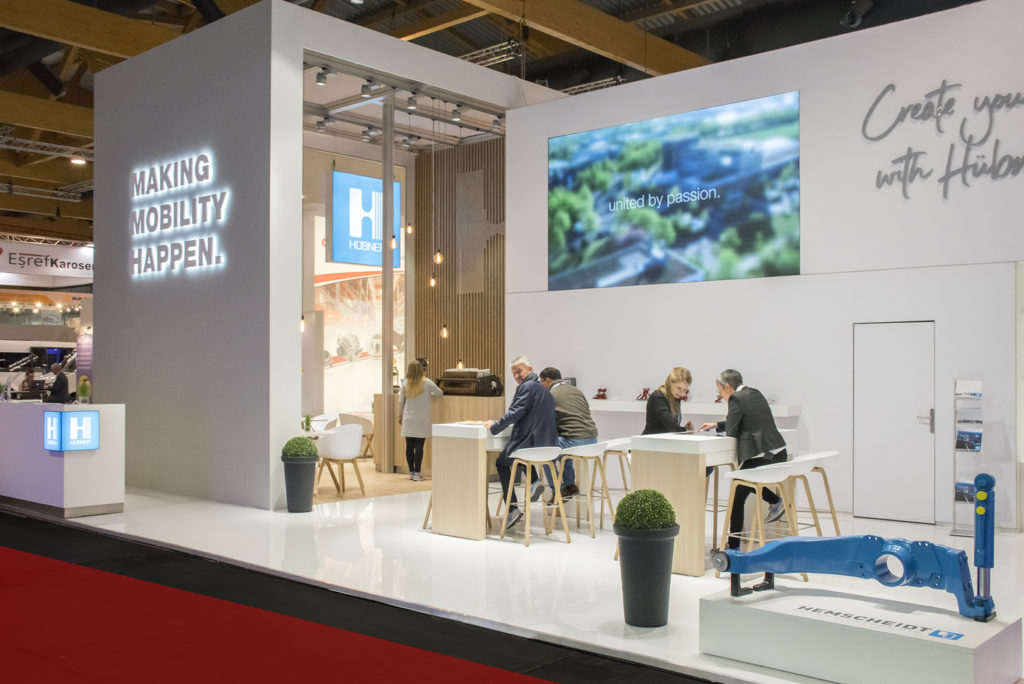 In addition to the electronic steering system, door safety systems such as the GWU Switch and LEXI will also be presented. These systems prevent passengers from getting caught in the entry doors of vehicles. The FEDRA LED system is another enhancement in the area of door safety systems. This system features colored light strips on the finger protection profiles of vehicle doors that signal to passengers prior to entry whether a door will be opening or closing.
HÜBNER also has ramps and lifts in its product range. The electronically operated Flip Ramp is a folding ramp that is simple to operate and conforms with ADA Accessibility Guidelines. In case of emergency operation, the ramp can be deployed with less than 9 kg manual force. The EXEO Light lift system for touring coaches is a manual system that at the same time is easy and simple to operate without an electric drive. Retrofitting of the EXEO Light as well as maintenance can be done without great effort or expense.
In the area of chassis technology, new developments such as a semi-trailing independent suspension and a new double wishbone axle with hydropneumatic suspension will be shown. Both of these producrts have been specially developed to meet the energy requirements of electromobility.