Hitachi and Mitsubishi Sign MoU with Panama Metro to Deliver Monorail
Graphic: Panama Monorail © Hitachi Rail Systems
Panama City: Ansaldo STS, a joint−venture between Hitachi Rail Systems and Mitsubishi Corporation, has signed a Memorandum of Understanding with Metro de Panamá (MPSA) for the installation of a monorail on the planned Line 3 for Panama Metro.
Panama Metro: Line 3
The signalling, telecommunications and power systems for the monorail will be installed by Ansaldo, whilst Hitachi will provide 28 six-carriage trains. The commercial affairs of the project will be directed by Mitsubishi.
As of September 2018 the principal contractor for the installation of the monorail, which will become line 3 of the system, is unconfirmed, but will be appointed in due course by MPSA. The principal contractor will then appoint the sub−contractors for the project.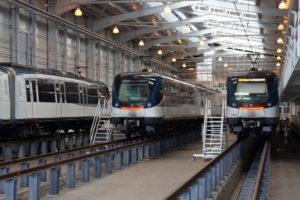 The project will be financed by loans from the Japan International Cooperation Agency. The agency provides funds for combatting climate change and improving urban transport, a portion of which will be allocated to the installation of the monorail in Panama.
Panama Metro: Lines 1 and 2
The Panama Metro, which currently has one line that was constructed by the Line One Consortium (Odebrecht and FCC) and for which Alstom provided the rolling stock (Metropolis transets), is expanding rapidly. Line 1 opened in April 2014 and MPSA recently received delivery of 20 Metropolis trainsets from Alstom for line 2, which will start services in 2019.
To read a quick overview of Panama Metro's Line 2, see our Railway-News magazine here.