Germany at InnoTrans 2018
Andreas Scheuer, Minister of Transportation, and Richard Lutz, CEO of Deutsche Bahn give insights on Germany at InnoTrans 2018.
The EU recently took Germany to court over air pollution. This aspect too highlights that strengthening rail is more necessary than ever. Can you address the government's plans for rail with regard to our climate and sustainability?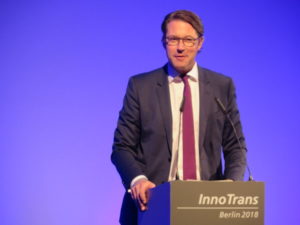 Andreas Scheuer, German Transport Minister:
"The federal government and I are always a bit sceptical when the European Commission sues and tells off countries. It would be nicer if we could engage in positive developments together. […] Political decisions are very important and we're very close to transport bodies, we're involved in joint projects and we have meetings together so we can improve the transitions from one system to another. I think this area is key. A high-speed train is useless if the surrounding system doesn't work.
There's also no point in increasing funding if the regional politicians can't properly deploy it. The complexity of the rail system has to be brought into the digital age. Combining mobility and digitalisation – that'll be the upcoming task. DB AG won't just be a mobility provider in the future, it'll be a digital provider as well. That'll be the next leap. There's enough funding available. The framework conditions have been set correctly. There are enough attractive players and now we have to act. And we have to say positive things when things go well."
Read: CRRC Announces Global Release of CETROVO Carbon-fibre Metro Vehicles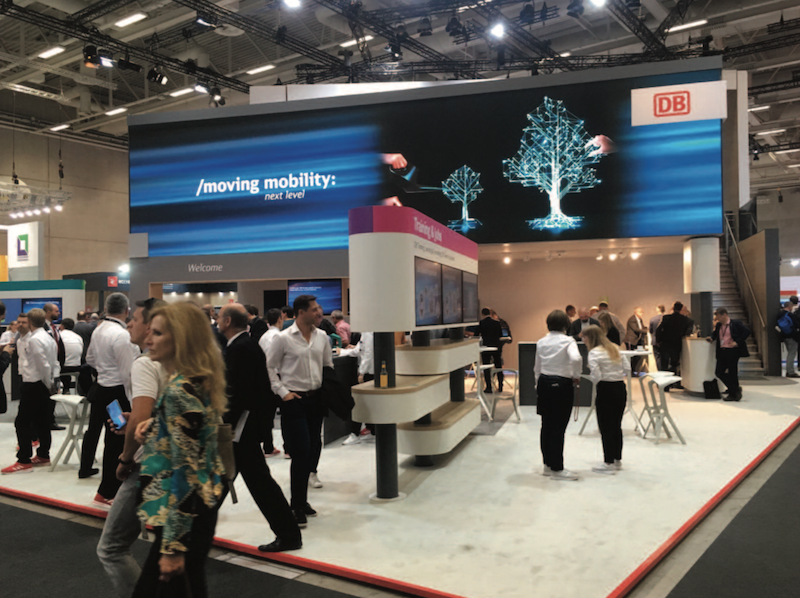 Richard Lutz, CEO of Deutsche Bahn:
"We can say this here without blushing: taking the train is a pro- active step to help protect the climate. There's no other mode of transport that protects the environment in such a powerful and effective way. For other mobility providers the subject of electric mobility is a vision for the future. But in rail that's been our reality for more than ninety years. More than ninety percent of rail operations are powered by electricity. That shows that we've been innovative for a long time.
But we don't want to rest on our laurels. Deutsche Bahn has set itself ambitious goals for 2030: we want to more than half our CO2 emissions and we want to increase the percentage of renewables from around 44% now to 70%. That's part of our contribution to the federal government's plan for protecting the climate and it's part of the decarbonisation by 2050 that is necessary because we've only got one mother Earth."
Read: Hydrogen Cells: How Alstom is Building on the Coradia iLint
There is discussion whether the majority of the railway lines in Germany can be digitised. Is that a realistic scenario?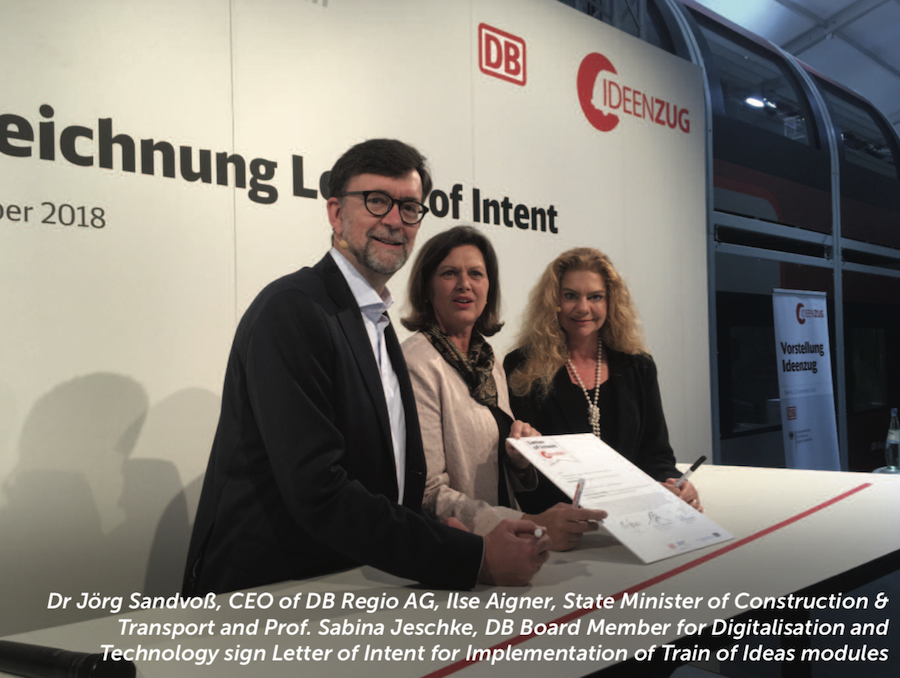 Andreas Scheuer, German Transport Minister:
"We make an effort with all the services we provide and we need a good-quality network. We must close the gaps in mobile phone coverage. It has to be possible to have quality of life and be able to have a good working environment on trains. That's the benefit of trains: you can work, you can make phone calls and relax and much more.
We have to engage in mobility management. Citizens need to stop just getting in their cars in the morning to get to work. There will be different combinations and we have to explain that this will bring about time savings and an increased quality of mobility. We're currently in that transformation process. By comparing the options out there, rail becomes so attractive that switching to rail is enabled. To achieve that we need a network that's cutting-edge. It mustn't be that passengers on the train treat "I'm on the train" as synonymous with losing coverage. That annoys everyone. We want to reduce that annoyance."
Read: The Current Impact of Digitisation on the Rail Industry