Deutsche Bahn and China Railways Deepen Their Working Relationship
Deutsche Bahn (DB) and China Railways (CR) will intensify their working relationship in several areas, DB has announced. Deutsche Bahn CEO Dr Richard Lutz and President of China Railways, Dongfu Lu, agreed this strategy in Berlin on 13 November 2018, as part of a co-operation agreement.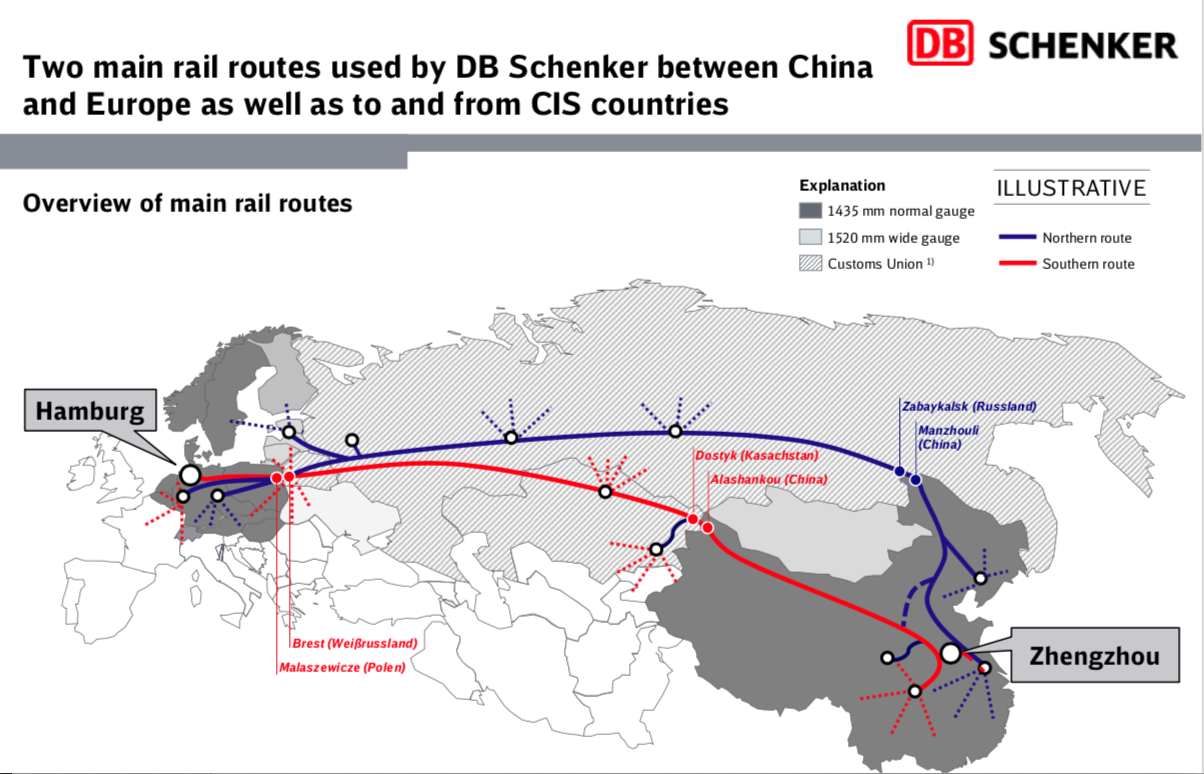 Richard Lutz, CEO of Deutsche Bahn, said:
"We have a track record of successful collaboration. One good example of this is the development of transports across the Eurasian land bridge. We expect that our China trains will have carried 90,000 containers in 2018. We have now agreed to expand this bilateral exchange to the new, innovative technologies for the railways. Both companies will benefit from that."
Rail Freight Link Between Germany and China
The two companies have co-operated for many years. In spring 2016 three areas were prioritised: the expansion of rail freight transports between Germany and China, DB consulting work for CR regarding the maintenance of high-speed trains, and support with the infrastructure projects China is implementing in third countries. DB Cargo and DB Engineering & Consulting are involved with their engineering expertise.
The collaboration with the 'China trains' started in 2008, when the first train was sent on the longest train connection in the world, covering 10,000 kilometres. In 2016, the connection saw the transport of 30,000 containers and by 2017 that figure had risen to around 80,000. The next milestone has been set at 100,000.
Collaboration on High-speed Rail
A further area of co-operation is high-speed rail transport. China Railways runs a high-speed rail network that is around 16,000 kilometres in length and boasts a fleet of 1,200 trains. Deutsche Bahn wants to provide servicing and maintenance support here. At the same time Deutsche Bahn is able to learn from the experiences of the high-speed trains' extremely high vehicle miles travelled and draw conclusions about maintenance for DB's fleet.
Collaboration on Infrastructure Projects
China Railway and Deutsche Bahn want to collaborate in the development of infrastructure projects in the context of the Silk Road initiative 'One Belt – One Road'. Deutsche Bahn will incorporate its expertise. China wants to invest more than 300 billion euros in its transport infrastructure over the coming years.
Deutsche Bahn in China
Deutsche Bahn has been present in China since 1966. Deutsche Bahn participated in the construction of the metro in Shanghai and of the Transrapid. It was further involved in developing the high-speed rail network. DB Schenker employs more than 5,000 people in the country.