ELeather Placed on The Sunday Times HSBC International Track 200
ELeather, a UK-based global leader in patented high-tech materials technology marks a key milestone in the growth of the business as it's recognised for the first time in The Sunday Times HSBC International Track 200. A strong entry to the league table placed the company at 105th on the list following a 46% increase in international sales.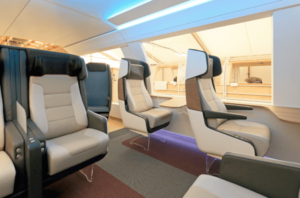 ELeather are one of nine companies headquartered in the East of England listing (compared to four last year), and are proud to be one of just two new entrants to the league table. Since going to market in 2007 with it's first customer 'Thomas Cook', ELeather now exports to over 40 countries and has established a blue chip global customer base across multiple industries. The company supplies seating upholstery and cladding for over 150 airlines, including the world's four largest airlines; the UK's leading bus operators and large European bus OEMs such as Mercedes; and over 12,000 rail vehicles run by many of the largest operators including Deutsche Bahn, who recently featured the product in their Idea Concept train, designed to represent rail travel of the future.
CEO, John Kennedy commented:
"We have been recognised in the Tech Track 100 list for several years, but this is the first time we have achieved a strong position among the group of companies categorised for fast-growing international sales. This is a great achievement for the business and a real boost for the team to see their efforts recognised alongside many well-known consumer brands."

"We have invested, and continue to invest, in our people and technology to ensure that we maintain growth by bringing superior solutions to the world's leading brands in both the transportation and consumer markets."
In February 2018, private equity firms ETF Partners and Hermes GPE invested £70m to fund a new factory enabling ELeather's production to be significantly increased from 2019 onwards. Kennedy added:
"The new facilities will extend our global reach, enabling us to offer high performance, environmentally-friendly products to new markets as well as provide existing customers with new applications through product and technology innovation.".
About ELeather
ELeather take unused traditional leather fibre and through a totally unique and patented process, engineer a high-performance, technically advanced leather fibre composite. ELeather products are designed and manufactured to provide exceptional characteristics delivering an eco-friendly material that out-performs traditional leather, synthetic leathers and fabrics. Our product collections are a true evolution in material technology – maximising performance and enhancing experiences in a more responsible way.
Exporting to over 40 countries with an established blue chip global customer base, the ELeather team are proud to supply over 150 airlines, including the world's four largest, as well as transforming over 12,000 rail vehicles and providing a better passenger experience to many leading bus operators and OEMs.
ELeather has received multiple technology and sustainability awards, including The SundayTimes 'Tech Track 100' and 'International Track 200'​, Global Cleantech 100, the ACM Greener Pathways award, and the Financial Times 1000 Companies to Inspire Britain.
Recognised as an award winning, environmentally friendly materials technology company we provide a wide range of products, specifically engineered for leading brands across multiple industries worldwide, including transportation and consumer markets.
FOR ALL THE LATEST INFORMATION, NEWS, IMAGES, VIDEOS AND DOCUMENTS FROM E-LEATHER PLEASE CLICK HERE.