The Latest Leathers Lined Up for Railway Interiors Expo 2017
Many leather innovations will be presented at Railway Interiors Expo 2017, to be held on November 14-15, 2017, in Prague, Czech Republic.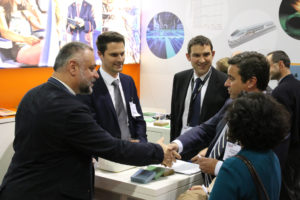 For example, Boxmark (Stand 1000) will show new collections including Duke, which is available in 55 stock colours and with a minimum order quantity of only one skin (approximately 5m2) per colour. The company says that, as with all its railway leathers, Duke fulfils all physical testing standards relevant to the rail sector – including EN 45545. The leather is 0.9mm-1.3mm thick and weighs less than 800g/m2. Boxmark's customary easy-care finish is designed to ensure easy cleaning and ideal resistance to soiling.
Railway Leathers
Meanwhile, the Trainlys range of leather products from Couro Azul (Stand 1047) was specially designed for trains, using bovine raw material from Europe. Couro Azul's research and development and design departments worked to ensure Trainlys retains the natural look of leather, with the required elasticity and smoothness, anti-soiling treatment and ease of cleaning. The company says the range is produced using an environmentally friendly tanning process and can be supplied in cut and perforated sets ready to be sewn.
Environmentally Friendly Leather
The environmental aspects of the tanning process are also a key focus for Swedish tannery Elmo (Stand 3015), making its booth a key destination for rail operators looking for an environmentally friendly leather that exceeds international standards in terms of certifications such as EN 45545. In 2004, Elmo invested in a €5m (US$5.9m) cleaning facility that enables it to reduce nitrogen by 94%, chromium by 99.6%, BOD by 99.9% and COD by 99.1%. The company says the reduced amount of water used in the tanning process is taken from a nearby river and later returned into it cleaner than before. Downstream, a regional cleaning facility is turning the river water into drinking water, supplying cities on the west coast of Sweden. "We proudly see this as a proof of our minimum impact on the environment and as a great leap in becoming at one with nature," says Jimmy Ahlgren, sales director at Elmo.
Railway Interiors
As well as soft furnishings, the free-to-attend exhibition will feature everything from seats to flooring, composite materials, sanitary units, lighting, infotainment systems, and so much more. This year almost 100 exhibitors are expected, from countries including Canada, Japan and the USA – not to mention a very strong European contingent.
The show, which was launched in 2004, regularly attracts more than 2,000 attendees from all over the world. As well as the designs, technologies and components on display, attendees can gain inspiration from the two-day, two-stream conference, which is also free to attend, and at which almost 50 expert speakers will share their ideas. There will also be exclusive design workshops hosted by tangerine, and a drinks party, which provides a fantastic networking opportunity for all attendees.