Direct High-Speed Rail Service Between London and Bordeaux One Step Closer
Getlink, formerly Groupe Eurotunnel, the company responsible for managing and operating the Channel Tunnel that connects Great Britain to mainland Europe, has announced that progress has been made towards implementing a direct high-speed rail service between London and Bordeaux.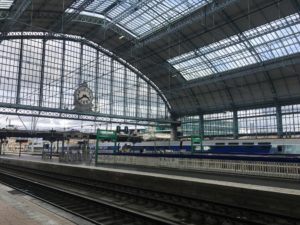 On 10 October 2018 the four infrastructure managers for the route – Eurotunnel, SNCF Réseau, HS1 and LISEA – said they would launch a joint feasibility study to determine how Bordeaux Saint Jean station could be made ready for international passengers. The four companies say this is an important step towards their ambition of creating a 'turn-key' open access route for an operator.
In order to run a direct international high-speed rail service between London and Bordeaux it will be necessary for Bordeaux to have facilities for border control and security. London already has these thanks to its Eurostar services to Paris etc. Providing these border facilities would mean passengers would not need to change trains on this route. The study will examine the costs and options for this border infrastructure, such as fencing.
It is estimated that such a direct service would take less than five hours thanks to the new South Europe Atlantic high-speed line between Tours and Bordeaux that was opened in 2017 (in order to establish a high-speed line between Bordeaux and Paris).
Figures show that more than a million passengers opted to travel between London and Bordeaux by air in 2017. Research suggests that up to 20% of these people – 200,000 – would be happy to switch to rail if a service of this distance were implemented.
Jean-Pierre Ramirez, Railway Network Director, Eurotunnel, said:
"International travellers cherish the convenience of direct high-speed rail services. Following the success of London-Amsterdam, the introduction of such an offer between Bordeaux and London is set to become the market reference."
Philippe Jausserand, Commercial Director, LISEA, said:
"There is already significant demand for travel between the southwest of France and London. Our new line between Tours and Bordeaux is the last link in the high-speed route allowing a fast, direct and competitive journey to London. The ideal conditions are now in place to design a future international terminal for Bordeaux Saint Jean."