Dayton RTA's Tapp Pay and Masabi's Cash Digitization Innovation Scoop Two Transport Ticketing Global Highly Commended Awards 2022
We are absolutely delighted to announce that Masabi has been recognized with two Highly Commended Transport Ticketing Global Awards 2022.
The Awards – held in person for the first time since 2020– saw the Greater Dayton Regional Transit Authority recognised in the 'Best Smart Ticketing Programme' category for their launch of Tapp Pay with Masabi and Transit app.
Masabi was also recognised in the 'Ticketing Enabler of the Year' for bringing innovative new retail store services to more than 15 agencies and operators allowing passengers to purchase tickets or add stored value to their account using cash while doing their weekly shop.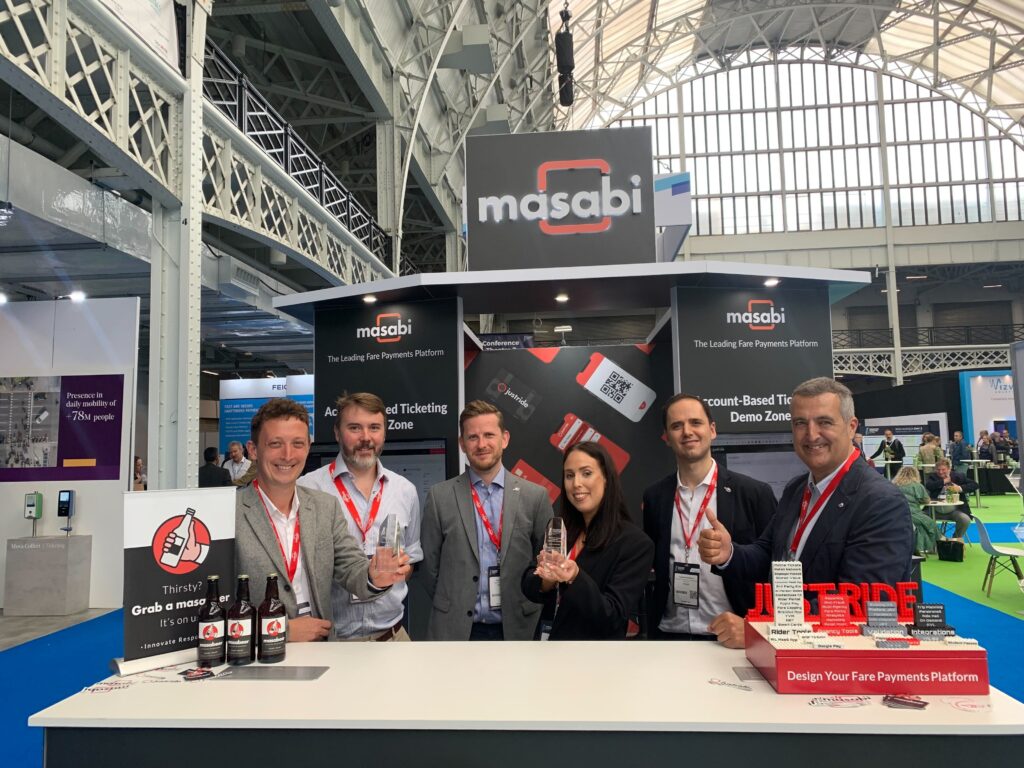 Widely regarded as the 'Oscars' of the transport ticketing industry, this year's awards attracted a large number of entries – reflecting the innovation on display.
What makes this awards so unique is the exceptional independent judging panel drawn from transport systems around the world, including; Katherine Conrad, Director at NEOride, Andrew Anderson, Head of Customer Payments at Transport for London, Ralph Gambetta, General Secretary at Calypso Network Association, Louise Coward, Head of Insights at Transport Focus and industry expert Jeremy Meal.
We're honoured to receive recognition from industry experts of this calibre, so lets shed a little light on these projects…
Best Smart Ticketing Programme (200k – 1m Daily Journeys)
Highly Commended Winner – Dayton's Tapp Pay with Masabi and Transit App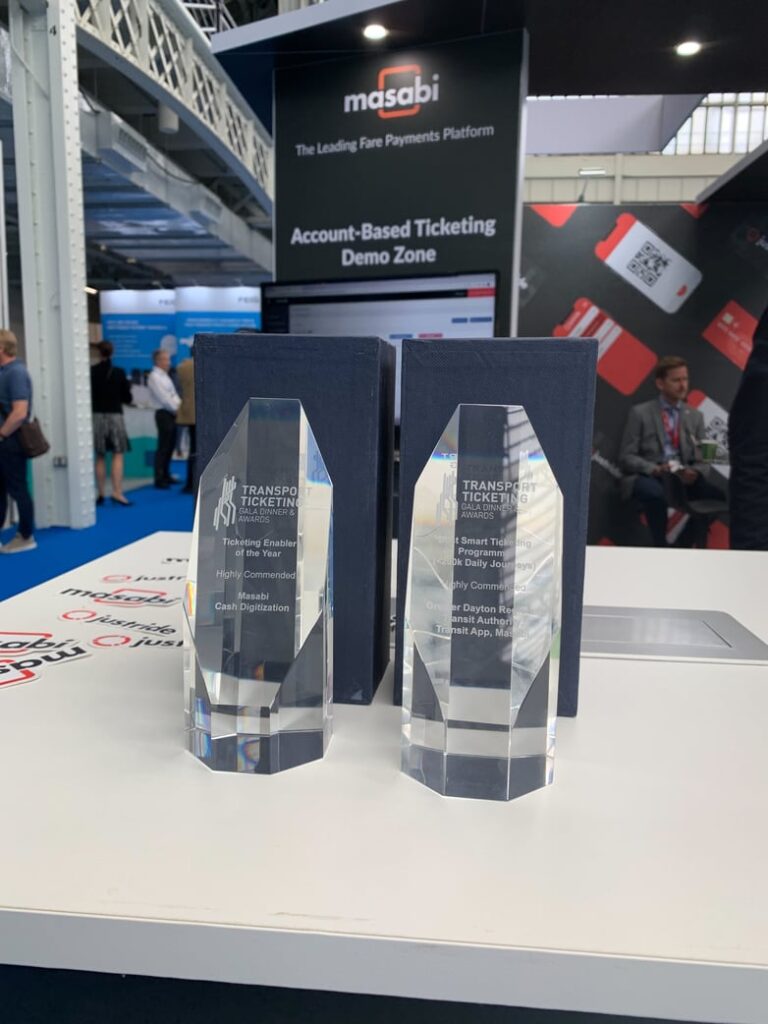 As the pandemic spread, providing a 'safe way to pay' was vital. Masabi's 'Mobile First' approach enabled RTA to launch mobile ticketing and a MaaS app experience in the Transit app in record time, with the implementation of a complete Account-Based Ticketing system following in stages.
Thanks to Account-Based Ticketing combined with fare capping, RTA was able to deliver a seamless, convenient and equitable service to passengers. Meanwhile, Account-Based Ticketing in the Transit app and new Account-based smartcards have made the discounted fares usually associated with daily and monthly travel passes accessible to all – particularly essential employees who rely on public transit.
By making it easier to purchase tickets with cash at over 300 local retailers, at new Ticket Vending Machines and via the Transit app, RTA streamlined a completely cashless onboard transit experience while ensuring unbanked or underbanked riders were fully supported.
As of 1st of November 2021, RTA became the first agency in the US to transition to a 100% cashless on-board payment experience by retiring their fareboxes, speeding up its services for all riders.
Ticketing Enabler of the Year
Highly Commended Winner – Cash Digitization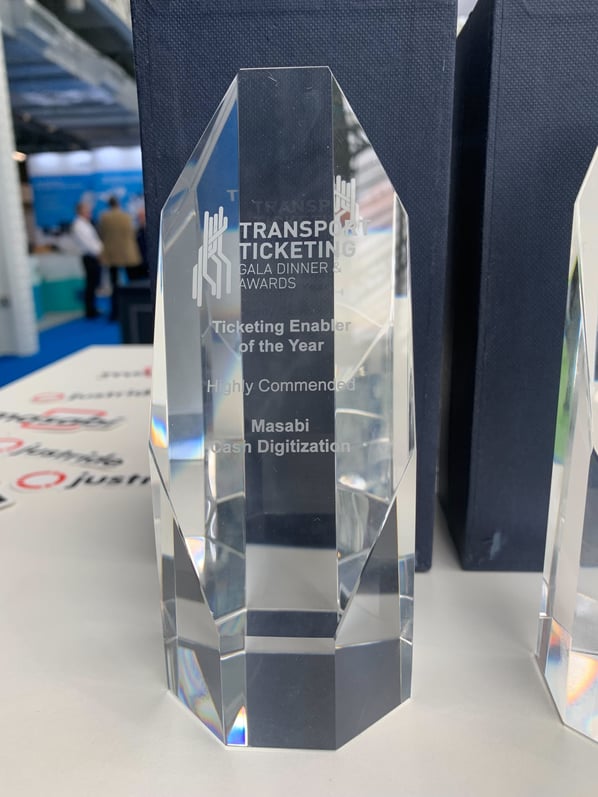 As transport authorities invest in making contactless ticketing and best-value fares accessible to everyone, converting cash into digital currency is crucial to ensuring these services prioritise accessibility and equity for all users – including those who may be unbanked, or prefer using cash.
For 20 operators in cities such as Birmingham UK (with National Express West Midland), Dayton, San Antonio, Las Vegas, Columbus, Cincinnati, Akron and across Ohio, Kentucky and Michigan, passengers can now use cash at thousands of retail stores to add funds to their transit account or purchase tickets, allowing cash users to access touch-free transit services.
This initiative was made possible with partners Payzone,  T-Cetra and Incomm Payments and ensures no user who wants to use cash is left behind. This functionality is added with no additional hardware, making transit accessibility easier for everyone.
These innovations have been facilitated through a Fare Payments as a Service delivery model making speedy deployments and innovation available to agencies of all sizes quickly and cost-effectively.
Winning awards like these show that the work that we're doing helps to improve the journey experience for passengers, but also helps transit agencies and operators keep up with the pace of technology change, while reducing the total cost of fare collection, pushing the boundaries of what can be done to solve transit agencies and operators' fare collection challenges, whatever they may be.
This article was originally published by Masabi.