Electronic devices used in rolling stock applications are in some cases exposed to harsh environmental conditions such as high levels of humidity, dust, chemicals and extreme temperatures.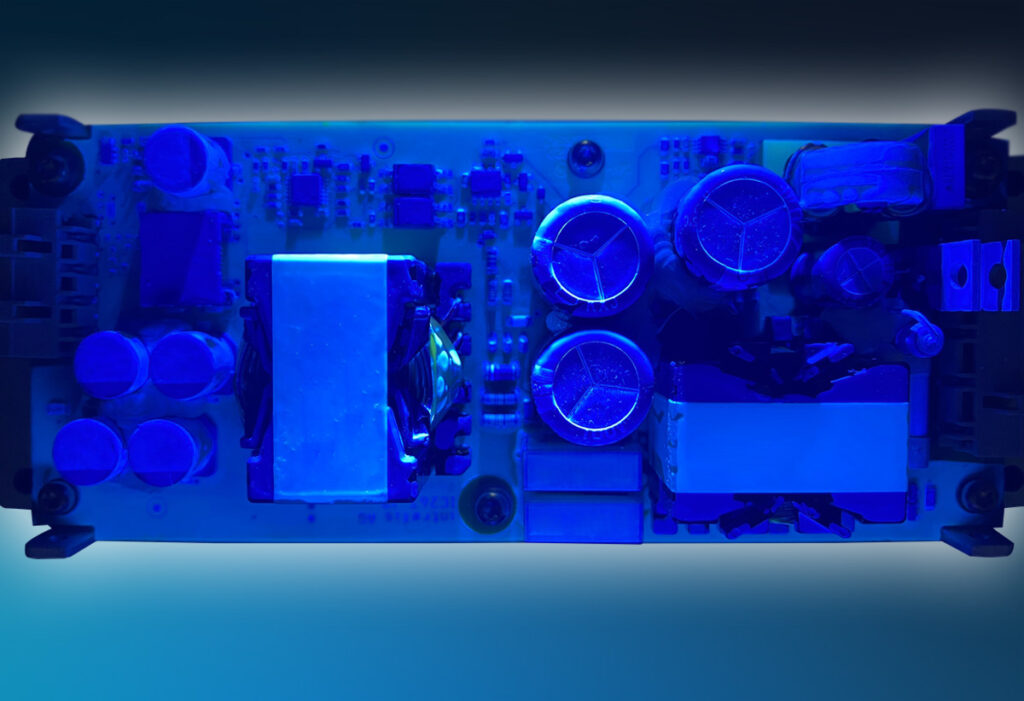 Despite these demanding circumstances, expectations are extremely high when it comes to reliability and service life. To obtain reliable power supplies, as key parts of mission-critical systems, conformally coated PCBs is a must to meet such high expectations. It is therefore also not surprising that the EN50155 describes and requires protective coating as an essential standard requirement for rail electronics. However, special know-how and experience are required when applying protective coating to PCBs so that common coating defects such as the ones below can be avoided:
Bubbles
Cracks and crazing
Adhesion, delamination and blisters
Cobwebbing/spiderwebbing
Wrinkles/orange peel
Capillarity
De-wetting
Coating defects are often caused by a combination of several factors: coating material (chemistry and technology), process method (application and curing), as well as operating conditions and configurations. In order to avoid coating defects, it is important to understand and control all of these parameters in the right way.
For intreXis power supply engineers, the coating stage is a key part of the design process. Good coating outcomes already begin when PCB layout and component placement are fixed. The right clustering and distances between components ensure, as a pre-requisite, that PCBs can be easily and accurately coated during mass production.
intreXis uses a selective coating method whereby a fully automated coating robot applies the protective coating as a thin layer of film. The selective coating is very precise and delivers perfect results with a consistent level of quality. For each PCB, the exact coating process is stored digitally. The software controls the targeted applying of the coating onto the defined PCB areas, leaving out components that do not need to be coated, such as input and output connectors. This production technology also ensures that the thickness of the coating layer remains even and uniform.
Customers benefit from our flawless protective coatings as well as ultra-reliable, proven railway power supplies for difficult environmental conditions. Do you have any questions regarding conformal coatings? We look forward to hearing from you and discussing your requirements.
This article was originally published by intreXis AG.