The Chartered Institute of Logistics and Transport (CILT) has published a report revealing the significant potential to electrify UK rail freight operations.
Its electrification strategy includes a detailed map and blueprint showcasing the opportunity to electrify 95% of rail freight operations in the UK by the mid-2040s.
Currently, just 10% of British freight trains are hauled by electric locomotives. However, CILT's research reveals that only 800 miles of additional electrification is needed to increase this figure to 95%.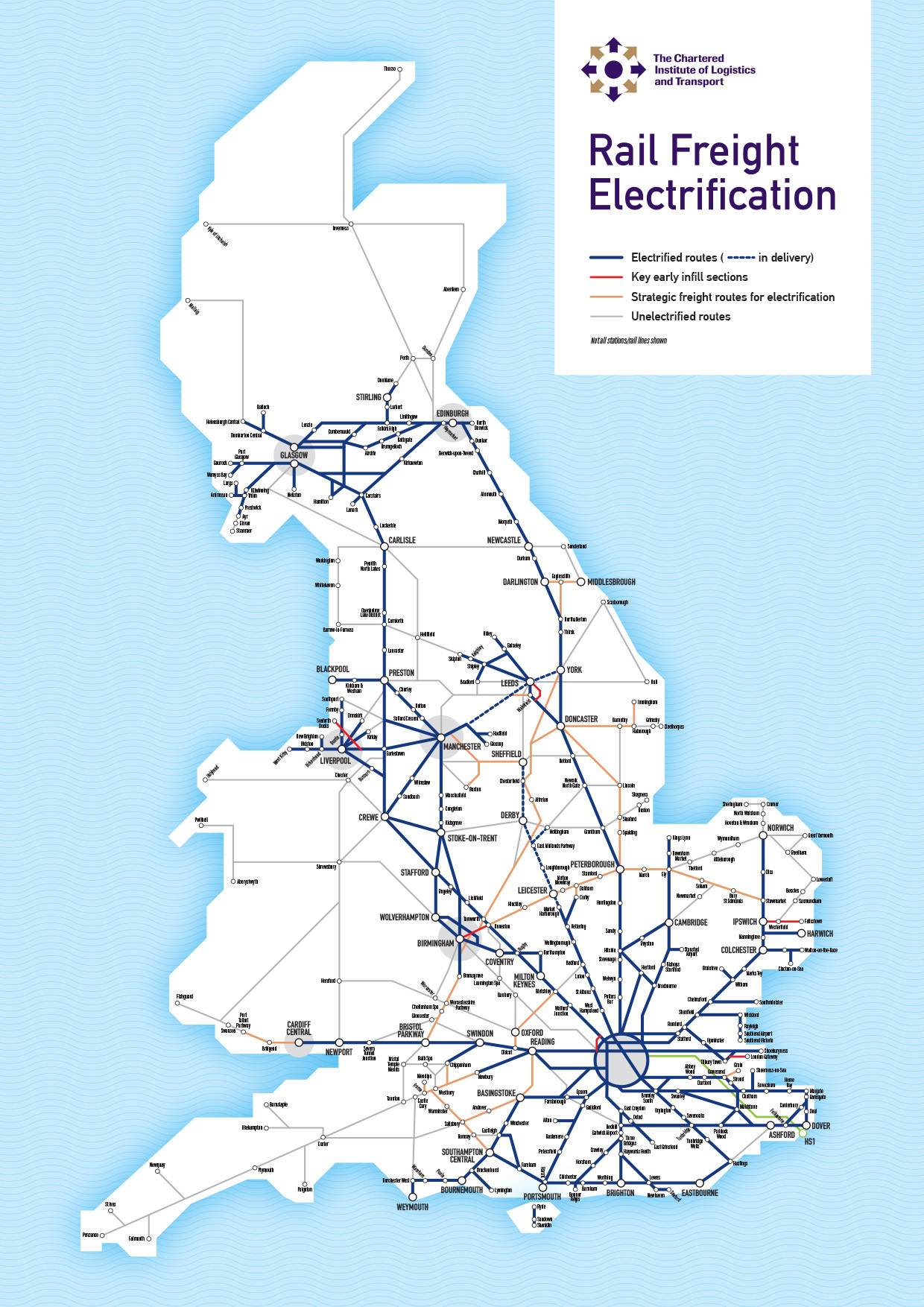 CILT's research estimates that the initial 60 miles of electrification would cost 50 million GBP per annum over two years, which is less than the cost of one road scheme.
Furthermore, the strategy suggests an electrification programme of 40 route miles per annum for 20 years, costing 100 million GBP per annum.
"The CILT electrification strategy would allow circa 95% of UK freight trains to be hauled by electric locomotives by the mid-2040s, saving considerable amounts of carbon every year. The strategy benefits passengers as well as freight customers. Almost all the routes involved carry passenger trains and the strategy would enable life-expired diesel trains to be replaced by modern electric units."
CILT notes that while decarbonising technologies for other modes of transport is still emerging, electrified rail is already an established and proven green technology. It should therefore be seen as a 'low-hanging fruit' in helping to reduce transport emissions.
Based on detailed analysis of rail freight movements across the UK, the research specifies three priority areas for the UK's electrification strategy:
Electrification of the key cross-country route from Felixstowe to the Midlands and North avoiding London
Electrification of the link from Britain's third-largest container port at Southampton to inland markets
Electrification of routes from major quarries and cement works in the Peak District and the Mendips.
"CILT is committed to helping policy makers, industry and professionals play their part in the route to net-zero. Our policy groups have worked tirelessly on this research to demonstrate the opportunity electrifying our rail freight sector presents. The CILT electrification strategy also strongly supports other policy imperatives, notably levelling-up and union connectivity and sees rail freight electrification as a key part of the route to net zero."