Anticipation Builds for the Popular RSN 2023 Rail Expo
With some 150 exhibitors, the Rail Partners Conference, Jobson James Rail – Meet the Buyer, the Railway Industry Association Small Business Showcase and exciting content from Rail Forum and Women in Rail, the show will have a unique attraction. It will cover the rail industry, provide up-to-date market information and present the very best that the industry offers, with the broadest range of exhibitors from new builders to entrepreneurs.

Rolling Stock Networking (RSN) continues it's year-on-year growth, as record numbers of visitors from all sectors of the industry filled Derby Arena on the 7th of July 2022, re-confirming the event as one of the most popular in the industry. Our next edition on 6th July 2023 will be the place to network, make new contacts and strengthen existing relationships.
Limited Space Remains – Take Your Place and Book Your Space at www.rsnevents.co.uk.
Many companies are already signed up to exhibit at RSN 2023. Higher technology product manufacturers including Televic GSP, TrainFX and Infodev EDI will exhibit their information systems and passenger counting systems. CAF and STADLER lead the new builder presence. Meanwhile, companies such as Orange Train Wash and Akriveia will present new inventions and digital services. Westermo, DB ESG, DG8, TT Electronics, Harting, AEGIS, LORAM, AURA Brand Solutions, Solo Rail Solutions, Greenbank Group, LPA, TVS SCS, CB Frost, I M Kelly R&A, Sabre Rail and many, many others will also offer the dependable products and services upon which the railway relies.
Polarteknik, LAPP, ENAG, Pinet, Witzenmann, Mors Smitt, Chambelain, HÜBNER, Dürr Technik and Wiska further add to the international feel of the show.
Supported by major Railway Trade Organisations and Government Bodies

Platinum Sponsor

Book Your Place
There is no end to the opportunities to trade, collaborate and succeed offered by the show.
With stand spaces available for £999, the show always sells out well in advance of the show date. Click the banner below, visit www.rsnevents.co.uk or mail [email protected] to secure your place.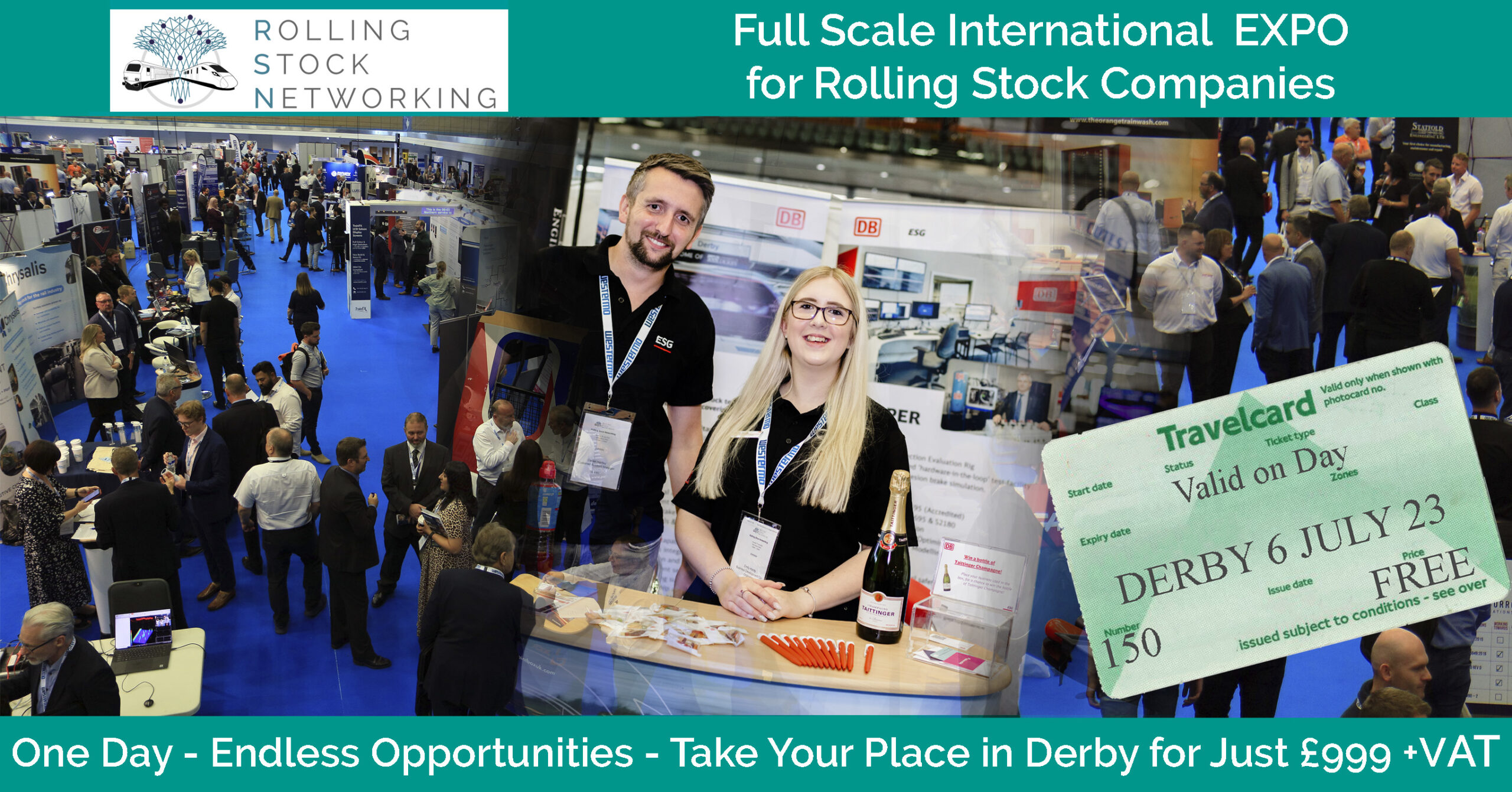 This article was originally written by RSN Events.