Bollé Safety Present Ultra Wrap-Around Safety Glasses for Panoramic Vision
The new NESS & NESS+ models have been designed to offer you an unequalled field of vision thanks to its deep and very enveloping lenses. They will provide you with the security you need.
Because our products are designed to adapt to your different businesses, their thin temples are discreet and can easily be slipped under head or hearing protection.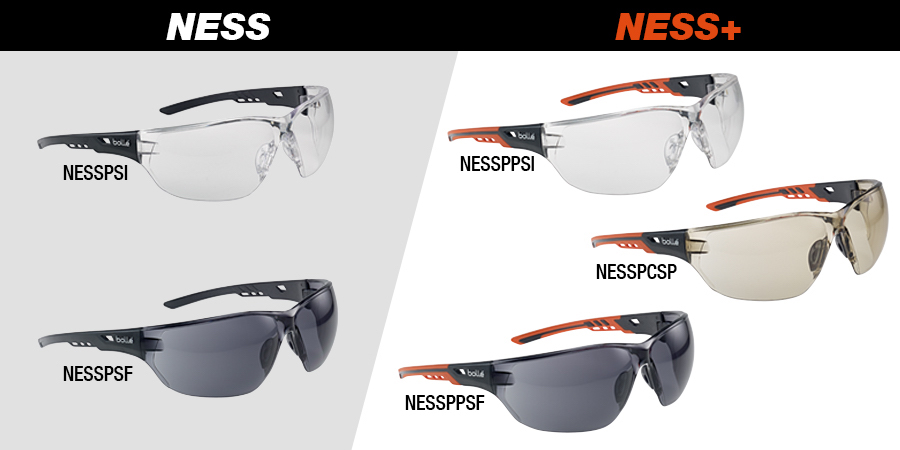 Ness+ offers you additional comfort with its co-injected temples and more performance thanks to its PLATINUM® lenses (double sided anti-scratch and anti-fog – K&N permanent coating).
Ness+ is available in clear (for indoor use), smoke (for outdoor use) and CSP (indoor/outdoor use) versions.
Ness is available in clear and smoke versions.
Bollé Safety, a world leader, designs, produces and markets safety spectacles, goggles and face shields for the rail industry. Bollé Safety provides an effective and innovative response to each risk. Industry, manufacturing, construction, aeronautics or the military, Bollé Safety caters to all markets and constantly improves its models with technological and ergonomic solutions to satisfy users daily.
At Bollé Safety, we are constantly innovating to bring to each specific trade, effective protection solutions that are pleasant to wear. Always bearing in mind that the best protection are those that make you want to wear them, Bollé Safety is developing complete product lines that are tailored to the needs of its rail industry users.