Be More Cost-Effective with the Help of Wheelabrator's Digital Tool
Stand By for Savings: The Digital Tool Enabling Energy-Efficient Shot Blasting
Shot blast machines wheel blast ones in particular use a lot of energy due the power required to accelerate the abrasive. Bringing that energy consumption down while maintaining a stable blast process could unlock savings and support sustainability agendas.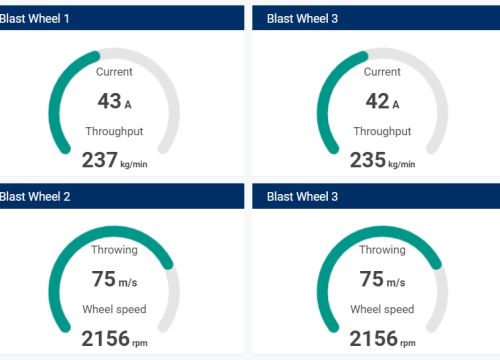 However, most blast machine users do not and cannot currently record energy use of their machines alongside other process parameters to identify periods of high usage or unproductive time. Without this data, there is no way of improving a machine's energy performance in a targeted way.
Leveraging Norican's Monitizer software and NoriGate hardware, the new digital tool from Wheelabrator offers an ideal solution.
Track Parameters, Drive Down Energy Consumption
By tracking KPIs to strategically optimise standby and idle times, turbine rpms and more, it allows operators and managers to instantly see if their machines are using unusually high amounts of energy, find the cause and tweak the process. Over time, the running of the machine can be adapted for even better energy efficiency without negatively affecting blast results or throughput (in fact, both may be improved as a side-effect of energy reduction efforts).
Unlock Cost Saving Potential
"In pilot testing we saw that major savings were possible from relatively minor adjustments driven by digital process optimisation.
"For example, by reducing idle time by 1 hour per day, the tool was able to unlock €14,000 annually in energy cost savings for a roller-conveyor machine with eight 45kW blast wheels. Doing the same on a less powerful pass-through monorail machine with eight 15kW blast wheels still achieved a saving of €4,000 per year.
"Developing digital technologies like this that unlock process efficiencies, energy savings and greater levels of productivity for our customers is a major priority for Wheelabrator. We are proud to see the impressive results and positive side-effects of addressing the energy use of blast machines head on."
For more information on Wheelabrator's digital offering, get in touch with us and one of our representatives will get back to you.
This article was originally published by Wheelabrator.