Alstom Win Shanghai Metro Car Modernisation Contract
Alstom has won a €46 million contract from Shanghai Shentong to modernise 28 metro cars currently in operation on Line 5 of the Shangai Metro. The contract also relates to the delivery of traction and train control management systems for 198 new metro cars yet to begin operating on the existing Line 5 and its extension which is due to open before the end of 2017.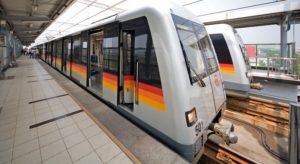 Shanghai Metro Line 5, is a 17.2km line. It currently has 11 stations. The extension will extend the line by 16.6km, and add nine stations. The original track began operating in 2003. The extension is intended to improve services, which are particularly dense from the Fengxian District to the Minhang District.
Metro Car Modernisation
Alstom originally supplied the 68 metro cars in 2003 as part of a Chinese joint venture, SATCO (Shanghai Alstom Transport Co. Ltd.). The overhaul will make the cars more reliable and make them compatible with the new signalling system which it is installing on the line. The traction system which will be installed on the 198 new cars will be constructed by Alstom's joint venture SATEE (Shanghai Alstom Transport Electrical Equipment Co. Ltd.).
Ling Fang, Managing Director of China & East Asia of Alstom, said:
"This new contract will strengthen Alstom's position in China. The great performance of the metro cars in Shanghai over the last 13 years, our 16 years of expertise in the supply of traction system in China, as well as our 25-year experience in train modernisation have been essential in the award of this contract. Alstom is committed to accompanying its customers in Shanghai and elsewhere in China to offer efficient, reliable and comfortable mobility solutions to passengers."
In the last 17 years, Alstom has delivered 1,333 metropolis metro cars and traction for seven metro lines in Shanghai. Its most recent contract was to deliver traction for 210 additional metro cars on Shanghai Metro Line 4.