Buenos Aires Metro order Alstom Metropolis Cars
Alstom has won a contract from SBASE (Subterráneos de Buenos Aires) worth €60 million to supply 60 Metropolis Cars to operate on Line D of the Buenos Aires metro network. They will be delivered in 2017. They contract also provides that Alstom supervise maintenance works on the Metropolis trainsets for the first two years of operation.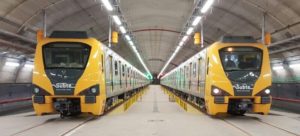 Buenos Aires metro network is 60km long split into six lines. Line D is more than 10km long and features 16 stations. This latest acquisition by SBASE will provide the latest in comfort and safety to 360,000 passengers travelling daily on Line D.
Alstom Metropolis Cars
The Metropolis trainsets ordered will be six-car trainsets with capacity for 1,500 passengers. They feature four automatic doors on each side of the train to enable rapid passenger flow. The metro is also fitted with digital line-map display, LCD screens providing video broadcast, CCTV and air conditioning. The trainsets will be manufactured at Alstom's Lapa plant, in São Paulo state, Brazil.
Michel Boccaccio, Senior Vice President of Alstom in Latin America, said:
"We are pleased to be awarded this new contract which reinforces our presence in Argentina. It is an excellent endorsement of our strong relationship with SBASE who has already ordered us more than 200 Metropolis cars, as well as signaling and services. With the new Metropolis, commuters will certainly enjoy travelling aboard a train that is sustainable, comfortable and reliable."
In excess of 5,000 Metropolis cars have been purchased by 20 cities internationally. As one of the largest metro car manufacturers in the work, Alstom produces cars which are adapted to meet the needs of passengers in various locales. The Metropolis trainset comes with a range of options and configurations, as well as good passenger comfort and innovations which optimise energy efficiency and lower lifecycle costs.