Alstom Receive Coradia Lint Homologation
Alstom's Coradia Lint 41 regional train has received homologation to operate in Poland. The homologation comes after certification which was obtained in the Czech Republic. The trains will run cross-border services between Germany, Poland the Czech Republic. The certification will enable Alstom to fulfill two contracts, signed in 2013 and 2015 by DB Regio and Länderbahn (Die Länderbahn GmbH) respectively to deliver and obtain cross-border homologation of 17 and 12 Coradia Lint 41 trainsets.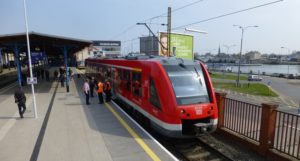 Andreas Knitter, Senior Vice President Europe at Alstom, said:
"We are proud to have accomplished this major milestone. Our customers value and trust the experience we have built up over the last 16 years. This achievement shows again that our Coradia Lint withstands all European qualifications."
Having achieved the certification, DB Regio Trains will now run from Lübeck via Pasewalk to Szczecin in Poland. Transnational trains will run from Länderbahn over the coming weeks, connecting  Bavaria, Germany and the cities of Cheb, Františkovy Lázně and Aš in Czech Republic.
The certification of homologation for the Coradia Lint is the seventh for Alstom. The others are in operation in Germany, Denmark, France, The Netherlands and Canada. More than 900 Coradia Lint trains have been purchased, with 750 in operation at the moment. It is the top-selling regional train that Alstom manufacture.
As a modular train, the Coradia Lint (part of the Coradia range of modular trains) is a cutting-edge, powerful and green diesel multiple unit (DMU). It is low fuel consumption, with a top operating speed of 140km/h. The Coradia range has been operating for over 16 years, boasting low life cycle costs and low maintenance costs. It comes in four options for train architecture, with two options for access heights. They are manufactured in Alstom's Salzgitter plant in Germany, and carbody production takes place at Alstom's site in Katowice, Poland.