UK: Alstom Completes Pendolino Train Refurbishment
Alstom has announced the completion of a major train refurbishment work of the Pendolino fleet for Virgin on the West Coast Main Line. The overhaul of the 56 Class 390 'tilting' trains is Alstom's fourth major overhaul of the fleet.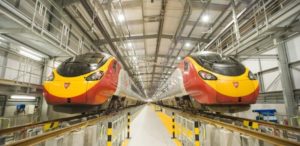 The works were undertaken on 574 cars, 3629 interior and exterior doors, and 1148 bogies. The bogies were washed and stripped, and wheelsets, gearboxes, drop links, yaw dampers and other associated components were renewed. 4,100 modules were tested and 2.3 million consumables were exchanged.
Alstom Train Refurbishment Facility
A purpose-built bogie overhaul facility was built by Alstom at its Manchester site specifically to undertake this aspect of its train refurbishment contract. The facility has substantially reduced the time needed to overhaul the trains, making it possible to overhaul a whole set of bogies for a nine-car (18 bogies) or eleven-car (22 bogies) vehicle in five days. It is now possible for the bogies for a total of 26 vehicles to be overhauled in a single week. Therefore, the time required to overhaul a train is now just one week. The facility is also suitable for the overhaul of Class 334s, 175s and 180s and other manufacturers' trains.
Rob Whyte, Managing Director Regional and Intercity, Alstom UK&I, said
"This project has been a real success story for Alstom and the team of highly-skilled engineers who have done a fantastic job in such a short space of time. The new facility was purpose-built for our work on the Class 390 trains, but with the flexibility to accommodate a much broader set of trains, allowing us to significantly increase our manufacturing capability in the UK. We have supported over 120 local jobs with this work and put millions of pounds into the local economy by working closely with local suppliers in the North West."
The Pendolino fleet was manufactured by Alstom in the UK specifically for operation on the West Coast Main Line route. They operate at a top speed of 225km/h. Alstom maintain the whole Virgin Pendolino fleet, consisting of 52 original trains and 4 additional ones which were delivered in 2012. The maintenance works take place at Traincare Centres in Wembley, Wolverhampton, Manchester, Liverpool and Glasgow.