Alstom Win TransPennine Maintenance Contract
Alstom has won a maintenance contract for TransPennine Express, an intercity rail operator in the North of England and Scotland. The contract relates to the maintenance of two fleets of 25 new five-car trains when they enter commercial service in 2019 to 2024, with an option to extend for two further years. The contract is worth €40 million.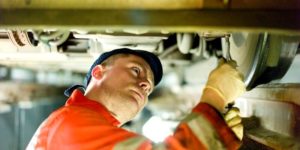 TransPennine Maintenance contract
The maintenance works will be undertaken at Alstom's sites in Manchester, Liverpool and Glasgow. The contracts will create 25 new permanent jobs at Alstom across these sites to deliver the works. There will also be new training and apprenticeship opportunities at Alstom's Widnes Technology Centre which was recently announced.
The fleets benefitting from the maintenance works will deliver an additional 14 million seats annually. They are 12 five-car Civity UK Intercity electric trains and 13 five-car Intercity diesel trains. The former will operate between Manchester and Liverpool to Glasgow and Edinburgh, and the latter will operate between Liverpool and Newcastle.
This contract with TransPennine Express comes after the recent completion of a major overhaul of the Pendolino fleet on the Virgin West Coast Main Line. The works on the 56 Class 390 'tilting' trains was Alstom's fourth major refurbishment works on the fleet.
Henrik Anderberg, Acting Managing Director, Alstom UK and Ireland, said:
"Alstom is a world expert in maintenance, able to service non-Alstom fleets as for this order. With 12 train care centres and over 3,000 highly-skilled employees based in Britain, we are well-placed to deliver. Our UK business is entering a hugely successful period. We recently received planning consent to acquire 30 acres of land for the construction of a new Technology Centre at Widnes to make our operations in the UK even more modern and efficient."
Leo Goodwin, TPE's Managing Director, said:
"This is great news for our customers and we are delighted to have concluded the deals that will bring much needed and much wanted extra carriages across our network."This will enable us to transform the customer experience over the life of our franchise and our new train fleets will form a key part of this improvement. Whether travelling to work, for business or leisure, our services are going to offer more seats, improved connectivity and a higher standard of comfort. The on-board experience will be second to none and we will provide customers with a real alternative to the car and congested road network."