TransPennine Express Orders 126 New Carriages
Intercity train operator TransPennine Express (TPE), which operates services for the north of England and Scotland, has announced that it has purchased 126 new carriages from Construcciones y Auxiliar de Ferrocarriles (CAF). The contract is worth more than £230 million, and relates to the purchase of 25 new five-carriage trains. They are to be delivered in time to begin operating passenger services in 2019.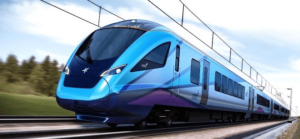 The TPE franchise came into force on 1 April 2016. As part of their winning bid, the operator committed to spending more than £500 million on the network. This announcement follows the purchase of 19 five-carriage AT300 bi-mode trains from Hitachi Rail Europe. Those trains have the capacity to operate on both electric and diesel power. They will be manufactured in County Durham.
TransPennine Express Fleet
The new purchase will deliver an additional 13 million seats every year. The two new fleets; 12 five-carriage Civity UK InterCity electric trains (which were financed by Eversholt Rail) and 13 five-car InterCity carriages (which were financed by Beacon Rail Leasing) will operate between Manchester to Edinburgh and Liverpool to Newcastle, respectively.
The new trains will supplement the current TPE fleet, doubling capacity by 2019. They will feature free wifi, on-board customer information and a modern interior. They will run at top operating speeds of 125mph. The new fleets will be delivered over the course of 2018 and 2019.
CAF have also been contracted to provide technical support and spare parts for both fleets, with maintenance to be carried out by Alstom at its sites in Longsight (Manchester), Edge Hill (Liverpool) and Polmadie (Glasgow). CAF won the bid following a comprehensive procurement process.
Leo Goodwin, TPE's Managing Director, said:

"This is great news for our customers and we are delighted to have concluded the deals that will bring much needed and much wanted extra carriages across our network.

"This will enable us to transform the customer experience over the life of our franchise and our three new train fleets will form a key part of this improvement.

"Whether travelling to work, for business or leisure, our services are going to offer more seats, improved connectivity and a higher standard of comfort. The on-board experience will be second to none and we will provide customers with a real alternative to the car and congested road network."
Antonio Campos, CAF, S.A. International Commercial Director for Western Europe, said:
"I am delighted to work with FirstGroup to provide new modern and comfortable trains for the North of England. This is a fantastic opportunity for CAF to strengthen its presence in this region and consolidate its position as one of the leading manufacturers of trains for the UK market. We are delighted to have our total product range such as the Sleepers, Coaches, EMUs, DMUs and Trams operating throughout the UK rail network."
Richard Garner, CAF. S.A. Business Development Director for UK and Ireland, said:
"Following on from CAF's recent order for the supply of 281 passenger carriages to Arriva Rail North, this order reinforces CAF's presence in Northern England. These new contracts further support the economy of the Northern Powerhouse including the creation of 50 new jobs. CAF will invest in a new central logistics hub and as an established supplier into the UK market; CAF now has a solid economic basis for further increasing its footprint in the UK."
Henrik Anderberg, Acting MD Alstom UK & Ireland, said:
"This is an exciting day, not just for rail users, but for everyone interested in the jobs and apprenticeships this contract will allow Alstom to create. We are a world expert in train maintenance. Most famously in the UK we look after the Pendolino trains we built for Virgin's West Coast service, but we also maintain a whole range of trains built by other companies worldwide.

"Now, with this contract, and our Widnes Technology Centre and Training Academy that received planning permission last week, Alstom can deliver another 25 new permanent jobs, and a whole host of training and apprenticeship opportunities for local people."
Mary Kenny, Chief Executive Officer of Eversholt Rail Group, said:
"Eversholt Rail is delighted to be supporting this expansion of the TransPennine Express network by investing £120m in its new fleet of CAF Civity trains. These trains will bring major improvements for passengers on services between Manchester and Scotland.  We look forward to working closely with our partners to introduce the new fleet into service over the next three years."
Ted Gaffney, Chief Executive Officer of Beacon, said:
"Beacon is very pleased to provide a locomotive hauled coach solution to TransPennine Express.  This transaction is in line with our strategy, growth ambitions, and our commitment to providing state of the art rolling stock to the UK market."
Chris Connelly, Commercial and Business Development Director of DRS, said:
"DRS are delighted to be part of this exciting venture. With unmatched environmental credentials the Class 68 locomotive is already delivering industry leading levels of performance, reliability and fuel efficiency.  We are proud that these highly innovative locomotives together with our team of technical experts will be supporting TPE in delivering an exceptional product to the customer."