Alstom Shareholders Approve Siemens Merger and Other Resolutions
Paris, 17 July: shareholders of Alstom Transport have approved all of the resolutions proposed at their 2018 Special and Combined Meetings. More than 95% of shareholders approved the merger of Alstom with Siemens Mobility, including its rail traction drive division.
The merger requires the approval of the appropriate anti-trust authorities, but is expected to be completed during the first half of 2019. At the close of day before the closing date for the merger Alstom's shareholders will receive two exceptional distributions: a control premium (Distribution A) of €4 per share, and an exceptional distribution (Distribution B) of up to €4 per share.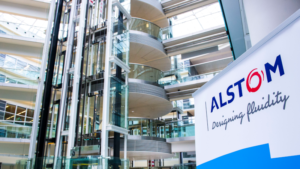 The meeting also included a review of the company's financial performance in 2017/18 and 2020 strategy. The shareholders approved the distribution of a dividend of €0.35 per share, an increase of 40% on 2017. The ex-dividend date will be 20 July 2018 and the record date will be 23 July 2018. The dividend will be payable in cash from 24 July 2018.
The shareholders approved the renewal of the mandates of Olivier Bouygues, Bouygues SA (represented by Philippe Marien) and Bi Yong Chungunco and the appointment of Baudouin Prot and Clotilde Delbos as directors. There are 14 directors on the board and these appointments maintain the ratio of independent members at 64%. The resolution to remove double voting rights was also approved at the meetings.
Finally, the shareholders agreed a future board of directors for Siemens-Alstom, which will be composed of 11 directors, 55% of whom are independent. 45% of members are women. The names and future positions of the directors are Roland Busch as chairman, Yann Delabrière as independent vice-chairman, Clotilde Delbos, Sigmar H. Gabriel, Sylvie Kandé de Beaupuy, Janina Kugel, Henri Poupart-Lafarge as CEO, Baudouin Prot, Christina M. Stercken, Ralf P. Thomas and Mariel von Schumann.