Italy: Alstom Delivers Coradia Meridian Jazz
Alstom has delivered the first of 12 Coradia Meridian Jazz trains to the Campania region in Italy. The order will be completed by the end of 2016. The Coradia Meridian Jazz was handed over in a ceremony at Napoli train station, attended by Renato Mazzoncini, FS Italiane CEO, Barbara Morgante, Trenitalia CEO, Vincenzo de Luca, President of the Campania region and Pierre-Louis Bertina, Alstom Italy Managing Director.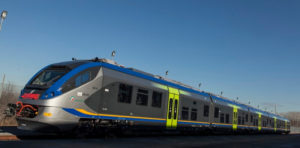 "Jazz" Specifications
The "Jazz" is the most up-to-date train of Alstom's Coradia Meridian series. It is an electric multiple unit (EMU) with a top speed of 160km/h. It features a concentrated traction system with two motor bogies. These reduce energy consumption and brake wear. The Jazz is also 95% recyclable, making it an environmentally sustainable train. The trains feature video surveillance, information screens as well as notices in braille and a loudspeaker system. They also have sockets for mobile phones and laptops and feature high levels of passenger comfort.
Pierre Louis Bertina, Managing Director of Alstom in Italy, said:
"Coradia Meridian is a successful train already circulating in 10 Italian regions, from north to south. With this train, Campania region will improve the experience of its passengers. Coradia Meridian is a train made in Italy, and benefits from Alstom's experience in regional transportation."
Alstom's Coradia Meridian in Italy
In Italy, in excess of 100 Coradia Meridian regional trains are in operation. These include those on regional lines in Piedmont, Lombardy, Tuscany, Umbria, Lazio (version Airport), Marche and Abruzzo. They will also be in operation in Trentino and Sicily imminently. The range is designed and built by Alstom in Italy at their Savigliano, Sesto San Giovanni and Bologna facilities. The Jazz was designed specifically for the Italian market.