Alstom has run its Coradia iLint hydrogen-powered passenger train in Sweden for the first time, at a presentation in Östersund for regional operators, transport authorities and government decision-makers.
This was to highlight its potential for sustainable transport in the country.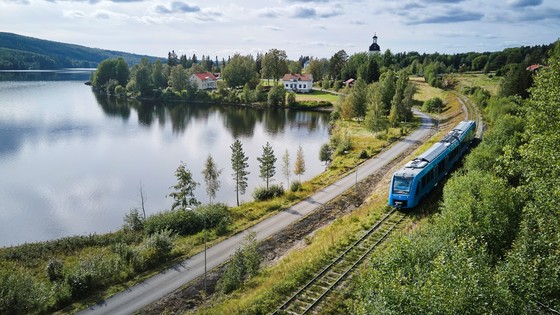 The Coradia iLint was unveiled in 2016, and is the world's first passenger train powered by a hydrogen fuel cell, which produces electrical power for traction.
The train emits low levels of noise and emits only steam and condensed water from its exhaust. Its performance matches with regular regional trains with a maximum speed of 140 kilometres per hour and comparable acceleration and braking performance.
Likewise, passenger capacity is up to 300 passengers and the train has a range of 1,000km.
"The Coradia iLint trains represent a huge opportunity for Sweden to reduce CO2 emissions and even decarbonise rail transport. Thanks to hydrogen-powered public transport, regional operators can be beacons of modern mobility, as experienced recently in Germany, the Netherlands and Austria – that have tested and are implementing (or planning to implement) hydrogen trains."
The first two 100% hydrogen iLint trains entered commercial service in 2018 in Germany, and have already covered more than 100,000 kilometres.
To date, 41 trainsets have been ordered in Germany, and successful trials have taken place in Austria and in the Netherlands. In Italy, the operator FNM confirmed an order for 14 hydrogen trains at the end of 2020.
Designed specifically for use on non-electrified lines, the Coradia iLint offers a diesel alternative. Depending on how the hydrogen is produced and how it is transported to refuelling sites, a hydrogen-powered regional train could be more environmentally friendly than its diesel counterpart.
Despite many electrification projects in several European countries, a significant proportion of the continent's rail networks will not receive this – in most cases – preferable traction technology. To sidestep this shortcoming, the Coradia iLint uses the existing infrastructure without the need to invest in electrification. It does, however require additional infrastructure in terms of hydrogen production and fuelling.