Eurasia Rail 2023: ZF Introduces Condition Monitoring System Connect@rail for the Turkish Railway Sector
Installed in low-floor tram for operator UlasimPark, ZF system pilots in the Turkish province of Kocaeli
Combined with the company's already installed hypoid bevel gearbox, connect@rail highlights ZF's digital competencies and key role in supporting the rail sector
Enabling precise component and track monitoring, connect@rail enables predictive and condition-based maintenance
Join ZF at this year's Eurasia Rail expo in Istanbul (Hall 4, B252)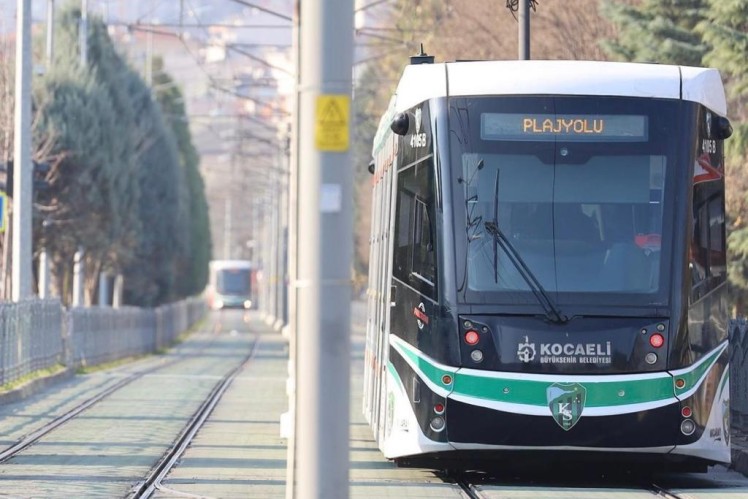 ZF is further strengthening its position in Turkey's railway business with a new customer project for its digital condition monitoring system connect@rail. Completing a successful trial phase with a low-floor tram for city transport operator UlasimPark in Kocaeli, the system also showcases ZF's ever-increasing digital competencies. As a comprehensive, sensor- and cloud-based solution, connect@rail enables precise rail infrastructure and driveline components monitoring. This facilitates predictive maintenance and increases the safety, reliability and efficiency of the train network. ZF will showcase connect@rail and other innovative products from its portfolio during the Eurasia Rail expo in Istanbul from June 21st to 23rd.
Kocaeli, a province east of Turkey's megacity Istanbul, is a bustling center of commerce and industry. Its metropolitan area is home to 1.9 million people, many of which depend on the city's public transport. Safe and reliable service is a must, which is why local operator UlasimPark is currently trialing ZF's innovative condition monitoring system connect@rail in their public transport network. Installed in a low-floor Panorama Tramvay by manufacturer Durmaray, the scope of the cooperation will include the detection of potential faults on the wheels, the driveline and even the track itself. ZF's connect@rail condition monitoring system will be used for the first time in Turkey.
Partnership Built on Trust and Proven Track Record
"We have found a great and trusted partner in UlasimPark. Together, we will bring more efficiency, safety and reliability into Turkey's railway network."
"In use since October 2022, the prototype tram completed more than 4,700 journeys in real-life, day-to-day operation. "This system will support the workshop team in terms of maintenance costs and time management. Predictive maintenance will enable us to detect potential damage at an early stage and thus make more accurate decisions. We congratulate ZF on this innovative approach and are pleased to have been able to test the system."
ZF worked with UlasimPark before: In 2016, the company outfitted an identical vehicle with its hypoid bevel gearbox back. That product's outstanding quality and reliability made it easy for the Turkish fleet operator to extend the partnership with the technology specialist from Germany. This evolving cooperation is also a showcase for ZF's expanding digital competencies, which further strengthens the company's key role in supporting the railway sector. ZF is also currently in talks with other operators interested in connect@rail.
Detecting Potential Damage with Pinpoint Precision
ZF's Infrastructure and Driveline Monitoring System consists of four main components: Heavy Duty TAGs, VCU Pro Onboard Units, connectivity to the ZF Cloud and a customizable digital dashboard for data visualization. The TAGs – wireless Bluetooth sensors – are installed on the vehicle's wheelset bearing cover or the bogie, where they record acceleration data. This information is then aggregated in on-board gateway units before being sent to the ZF Cloud for analyzation. The analyzed data is then visualized within a virtual dashboard that can be customized to the specifics of ZF's client.
ZF's intelligent algorithms can extrapolate potential damages from almost imperceptible abnormalities in acceleration recorded while the vehicle is in operation. That way, the system is able to detect flat spots and thread wear on the wheels and even (being linked with GPS) faults in the infrastructure, i.e. the tracks itself, with pinpoint accuracy.
This allows operators predictive and condition-based maintenance planning. Unforeseen downtime is minimized, while safety and efficiency – both of the vehicle and the network operation – is increased. Furthermore, riding the train will be more pleasant to passengers, as these kinds of damages usually result in more noise, vibration and harshness in the cabin.
All (Rail)roads Lead to Istanbul
ZF will highlight connect@rail and other innovative products from its portfolio at their show booth (Hall 4, B252) during the Eurasia Rail trade fair in Istanbul from June 21st to 23rd, 2023.
This article was originally published by ZF Group.