The Future of Condition Monitoring is Digital: Greater Efficiency and Reliability for Graz Linien
Graz public transit authority to install Infrastructure and Driveline Monitoring System from ZF in the first ten of more than 40 planned vehicles
Digitalization solution simplifies maintenance planning, prepares light rail for comprehensive condition and infrastructure monitoring
Since December 2020, ZF has also been on the rails in Graz with a visual eye-catcher
After successfully piloting and pre-producing applications, the Condition Monitoring System, which supports infrastructure and driveline monitoring, is set to go into volume production. With the support of two innovation leaders from Graz Linien, ZF has been further developing its digital system for condition monitoring since 2018 and has tested it during operation. At the end of 2020, Graz Linien, the city's public transit company, equipped ten rail vehicles with the Infrastructure and Driveline Monitoring System. An extended agreement on the equipment for 30 more vehicles has already been reached. Thus, vehicle availability in the inner-city traffic of Austria's second largest city can be planned more efficiently and operations can be made more environmentally friendly.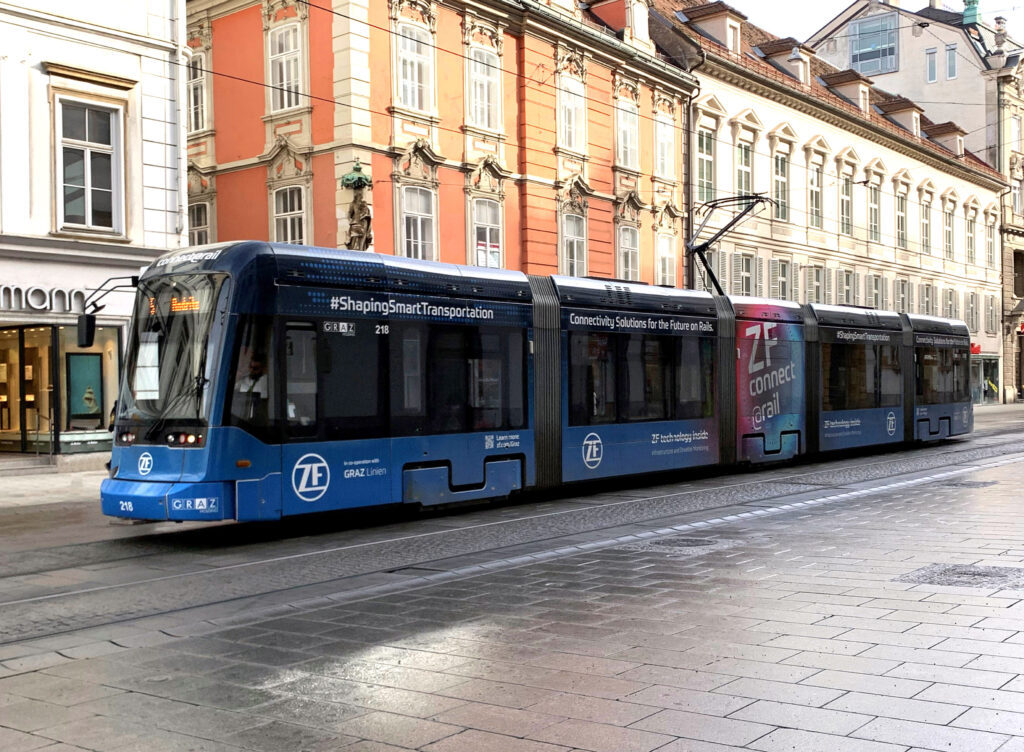 With the new Condition Monitoring System solution from ZF, Graz Linien intends to improve efficiency and operational safety through predictive maintenance, as well as permanent infrastructure monitoring. To achieve this, ZF installs several sensor platforms on the bogie, which record acceleration and vibrations, as well as bumps in the wheel-rail contact during operation. This data enables operators to monitor the condition of the rail tracks and wheels in real time, and helps to identify potential problem areas early on, which promises even greater safety while further reducing downtime. Any damage to the wheels or rail tracks can be detected early on, as well as resulting noise emissions, so further damage can be avoided.
First application: Flat Spot Monitoring
As a first step, Graz Linien focuses on the detection of wheel flats. When exceeding the friction limit between wheel and rail, a flat spot occurs. In further operation, the wheel does not roll correctly on the rail, which causes excessive local material removal. Flat spots are a possible reason for noise pollution for passengers and residents. With the Infrastructure and Driveline Monitoring System, ZF provides an efficient basis for the early identification of flat spots and predictive maintenance planning, which results in reducing the impacts and comfort restrictions for people and the environment, that are caused by this issue.
Comprehensive Condition Monitoring "[email protected]"
The Infrastructure and Driveline Monitoring is part of an innovative system that ZF has developed, as it strives to achieve the overall goal of comprehensive condition monitoring for rail vehicles and infrastructure. The intelligent condition monitoring system, [email protected], demonstrates how integrated sensors and advanced data analysis tools can further improve efficiency, reliability and safety in rail transportation.
Various sensors record vibrations, oil quality, and temperature trends inside ZF rail drives. Then, a digital platform developed by ZF reliably transfers the collected data and information to the ZF IoT-Cloud. The analysis and recommended courses of action based on the collected data are made available to the operator from the ZF IoT-Cloud, on a user interface and via push message. Furthermore, they can optimally schedule maintenance dates and respond to the most diverse situations individually and flexibly. This guarantees that the entire fleet is operating smoothly and as cost-efficiently as possible.
Actively shaping the mobility of the future #ShapingSmartTransportation
In addition to the technological and innovative upgrade of the rail vehicles, there is a special eye-catcher on the rail tracks in Graz since December 2020: A tram in ZF design draws attention to the digital condition monitoring system [email protected] installed in it. The slogan #ShapingSmartTransportation stands for the active participation of Graz Linien and ZF in the mobility of the future.
"ZF and Graz Linien have a long-standing partnership. Since 2018, we have been testing the digital condition monitoring system for the use in our trams. The short coordination paths with the development team have contributed to an optimal cooperation over the entire period.
"ZF always responded flexibly to our wishes and requirements. Now we have a system that is best suited to our needs in fleet management."
The innovative solution provides a significant advantage in terms of predictive maintenance planning as well as digital and permanent condition monitoring.
This article was originally published by ZF.