Why Rail Operators Must Get On-board with Mobile Coverage Solutions
Cobham Wireless is a leading provider of advanced wireless coverage and capacity delivery systems for both in-building and outdoor environments globally. With 45 years of experience in sector, the company has continuously worked to address evolving market and end-user demands. This has meant developing a portfolio of energy-efficient, cost-effective and scalable solutions, which will support smart city models, IoT and M2M applications and mobile users, as well as robust, reliable public safety networks.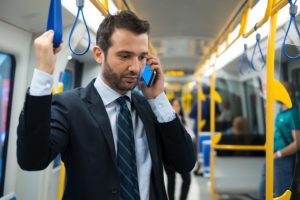 Today, its flagship coverage solution idDAS (intelligent distributed digital antenna system) is delivering cellular and public safety communications in stadiums, hospitals, schools, offices, hotels, airports, road and rail tunnels (and more!) the world over.
idDAS enables wireless capacity to be extended from a single system (rather than having to invest in multiple), making it an affordable and scalable system for powering smart cities. These include Berlin, the second most populous city in the EU. The project kicked off in 2016 with an idDAS deployed at Berlin's Fan Mile, providing 3G and 4G cellular connectivity to one million partygoers over New Years Eve. Coverage has since been extended to a hotel and shared workspace venue, with potential to expand this further.
Berlin's transport network has also benefitted from idDAS; a recent deployment in the historic U-Bahn underground rail system has supported an upgrade to critical public safety communications, as well as improved coverage and quality of service for mobile users.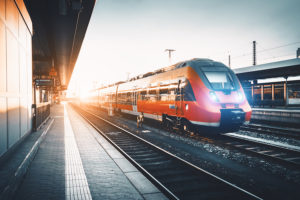 Transporting Success Globally
The U-Bahn is one of many projects Cobham Wireless has delivered for the rail and road sector. Other successes include the Eurasia Tunnel, the world's first undersea road structure linking two continents; the Chenani-Nashri Tunnel, South Asia's longest road tunnel; and the China Metro, an extensive project which began in 2015 and most recently saw Cobham Wireless celebrate its 100th deployment in the country.
With its idDAS and idOBR (intelligent digital on-board repeater), Cobham Wireless is able to address a set of challenges specific to the rail industry – and its passengers. Poor mobile coverage is a common complaint of the UK's rail users, and one which impacts negatively on customer satisfaction levels for both mobile operators and rail operators. In fact, we reported last year that more than half of commuters are prevented from working during parts of their commute due to a lack of mobile coverage, and only a third felt that their mobile signal was strong enough to connect to the internet.
Ingo Flömer, Vice President, Business Development and Technology at Cobham Wireless, commented:
"Passengers are already frustrated with disruptions to rail services caused by delays, industrial action and maintenance, and not being able to make calls and get online adds to this"

"Fortunately, rail operators have the power to turn this around, by investing in coverage solutions which deliver consistent and reliable cellular signal inside the train. Passengers will of course benefit, but there are significant gains for rail operators too. These include increased safety for passengers and staff, and the chance to offer (and promote) a great on-board service which will serve as a competitor differentiator."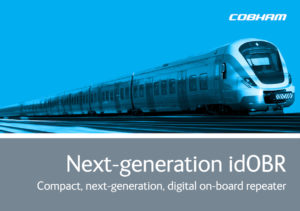 idDAS and idOBR
idDAS support multiple operators and a high level of mobile data traffic, making it well suited to the on-board rail environment, where hundreds of passengers use their phones simultaneously and connect via numerous providers. The solution also allows for better noise management and increased throughput in comparison to analogue DAS systems, resulting in clearer voice quality and improved service for passenger. This has been proven in the Berlin U-Bahn deployment, where a signal quality study noted a significant improvement compared with the legacy analogue coverage solution.
Data capacity can be controlled over a wide area, meaning resources can be precisely directed and shifted around a location with ease, and also be scaled up or down depending on the demand at a particular time. This wide-area coverage is crucial for rail networks, and can be achieved using on-board repeaters.
Cobham Wireless' idDAS makes it possible for high quality mobile phone coverage to be distributed across a rail line, as base transceiver stations can be located further from the site of coverage than with legacy analogue systems. Ingo said:
"Most systems are typically limited to 20km. idDAS, on the other hand, can achieve up to 60km, supporting the kind of long-range transmission required for on-board coverage. The idDAS model centralises equipment in a single location – reducing infrastructure costs – with coverage extended across the whole length of the track."
The technology also solves signal loss problems due to the on-board environment, and which have prevented operators from delivering adequate mobile coverage in the past. Trains present a lossy environment, with signal degradation caused by windows and metal roofing. Without repeaters on board to rectify this, passengers will experience a high ratio of dropped and failed calls, due to signal loss.
With Cobham Wireless' system, an antenna is fixed to the train roof – the best possible position to deliver the best possible mobile reception. A leakage cable feeds this to the idOBR, delivering comprehensive, reliable and high quality cellular coverage for train and mobile operators. Ingo explained:
"One of the major benefits of the idOBR, and one which makes us stand out from the competition is the size and design of the idOBR"

"The unit is by far the smallest on the market, taking up less, valuable, space on the train, which can instead be used to seat passengers. The technology can also withstand the stresses and strains of being on-board, such as vibration from the tracks, and significant variations in temperature."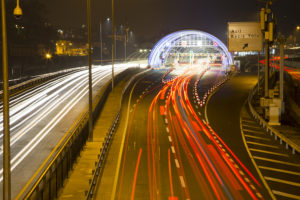 idDAS Signals A Connected Future
Today, we expect to be able to use our mobile phones whenever, and wherever we are. We expect seamless, consistent connectivity when we wake up at home in the morning, travel to work, pass in and out of offices, shops, restaurants and public spaces, before returning home in the evening.
For many of us commuting by train – as well as less frequent rail users – this experience and quality of service hasn't been guaranteed. However, there's an opportunity to change this, and Cobham Wireless' idDAS and idOBR offer a means of delivering the same high-capacity, high-throughput coverage on-board a train as we've come to expect from any other connected environment.
Supporting multiple mobile operators as well as public safety communications, these coverage solutions will improve both the on-board experience and on-board safety of passengers, guaranteeing ROI and the future success of a rail operators' business. At a time when sector is facing consistently negative press, this has never been more important.