Weighwell Awarded Best Train Scale 2017 for the Portable Train Weigher
With votes from 69 different countries worldwide Weighwell have won the 2017 Best Train Scale at this year's Weighing Review Readers' Choice Awards for the Portable Train Weigher (PTW).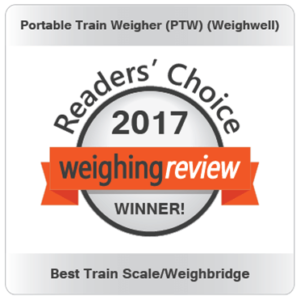 Now in its fourth annual edition the Weighing Review Awards is the only international voting competition that comprises of the major innovations and best products in weighing technology. This year's awards was comprised of 17 different categories, 38 different weighing companies and 61 different products/solutions.
World-Famous Portable Train Weigher
Weighwell's flagship product the PTW epitomizes their ability to trade worldwide with its universal design (rail scales in over 30 different countries). The main feature of the PTW system that allows the innovative product to excel overseas, build prominent relationships and exploit new markets is that it can be adapted to various track gauges and rail profiles.
Paul Horsfall, Managing Director, said:
"It is a privilege to be recognised by the international weighing community at this year's awards. This award is further recognition of the unique nature of our PTW and our extensive knowledge of the train weighing industry which has led to longstanding relationships with a variety of customers such as Hitachi, Siemens and Bombardier. This award is also testament to our commitment to providing the best service and support to our customers based on innovation and product excellence"
Suitable for Static and In-Motion Train Weighing
The PTW is suitable for static and in-motion train weighing without interrupting regular train movements. Weighwell's static weighing systems are primarily used within train maintenance depots, whilst their in-motion weighing systems are used within the rail freight industry. Ultimately, Weighwell's portable train weighing systems can be installed without any fixed track work and are designed so that they can weigh a variety of different rail vehicles such as trams, freight cars, commuter trains and high speed trains.
Original article © Weighwell.
FOR ALL THE LATEST INFORMATION, NEWS, IMAGES, VIDEOS AND DOCUMENTS FROM WEIGHWELL, PLEASE CLICK HERE.